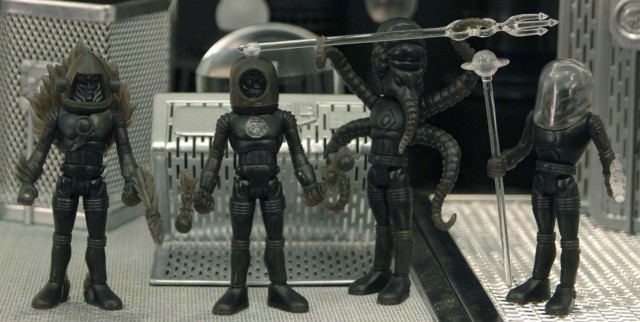 The Four Horsemen sent us some pictures of their upcoming retro chic collaboration with Onell Designs, the Outer Space Men. I didn't know anything about the Outer Space Men before the Four Horsemen announced the license – they were originally produced before I was born (but not by much). If you're like me and want to learn more, here's a couple of links:
Good reading all around – enjoy!
The first test shots for the Outer Space Men action figures have arrived at Four Horsemen Toy Design Studios, and the boys spent most of Thursday testing, reviewing and playing with the new arrivals.

Part of the playtime included testing the "pop and build" play system created by Onell Design owner, Matt Doughty which the Horsemen have incorporated into the new 3-3/4″ scaled OSM figures by combining various OSM parts with Onell Designs' Glyos characters parts.

These images of the OSM/Glyos combined figures only represents a fraction of the time the Horsemen spent playing with the visitors from Outer Space. Just from these images alone, it's easy to see that the possibilities are endless!

Be sure to check out the Glyos blog (http://onelldesign.blogspot.com/) for more cool OSM/Glyos combinations by Matt himself, and to discuss the Outer Space Men action figures, be sure to visit the OSM thread on the FANtastic Exclusive message boards (http://www.fantasticexclusive.com/fforum/forum.asp?FORUM_ID=12) to discuss the Outer Space Men and to see exclusive images!

Comic soon, information about upcoming Outer Space Men releases and the revelation of the super limited, special edition 2010 San Diego Comic Con exclusive Outer Space Men figures!