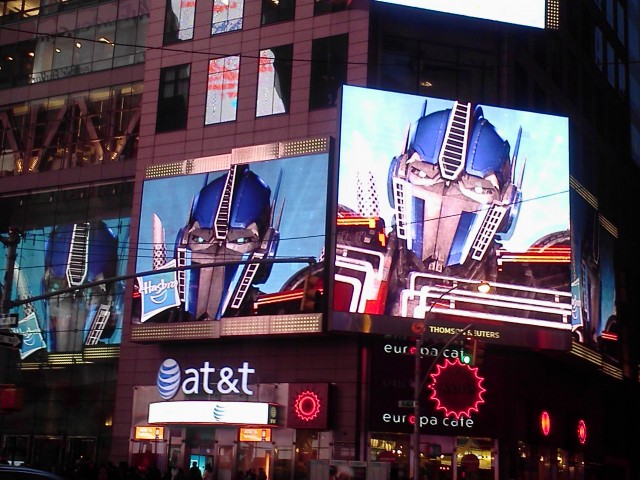 Hasbro held its Fan Media Day yesterday afternoon, inviting over one hundred folks from the various online blogs, fan sites, news, and communities that are fans of their collector-oriented brands – GI JOE, Star Wars, Transformers, and Marvel. I'll be posting pictures from their Toy Fair showroom later this morning and over the course of the next few days, but wanted to touch upon the central theme from the event's presentations – Hasbro is becoming an entertainment company, and the toys follow the entertainment.
To drive home the point, Hasbro kicked off the event with Stephen J. Davis, President of Hasbro Studios. Davis started off his presentation by asking the somewhat confused audience who their favorite My Little Pony was – "Who loves Pinky Pie?" There did appear to be some Pony fans among the hardcore action figure crowd, and Davis went on to share some very impressive stats (over 600 half hours of original programs in the past two years!) about Hasbro Studios and preview some of the continuing and upcoming shows.
Fans of the Ponies will be glad to know that there's some burgeoning romances to come. Hasbro Studios is also looking to capture some of the magic of Duel Masters, the Japanese card game, manga, and anime, with Kaijudo: Rise of the Duel Masters, a new show they are producing in conjunction with Wizards of the Coast.
We were also treated to a preview from Transformers: Rescue Bots, a new show debuting in just under a week on February 18 and aimed at cultivating a new generation of Transformers fans, as well as an exclusive clip featuring a kick-ass Arcee from the second season of Transformers: Prime. Season 2 of Prime also kicks off on February 18.
Noticeably absent was any mention of GI JOE: Renegades. Renegades has been on hiatus, with Henry Gilroy, one of the show's writers, recently stating during a Star Wars podcast (check about 58 minutes in) that we probably would not see a season 2, primarily due to the plot similarities with the GI JOE: Retaliation movie.
After Davis concluded his Studios presentation, members from each of the marketing and design teams presented their brands. While I'll cover those presentations and the pics from the showroom separately, I found it interesting that for each brand, the team started off by highlighting the upcoming media and entertainment – the natural lead-in for the toys that followed.
Transformers – Rescue Bots and Prime animated shows on the Hub, and the Fall of Cybertron video game
GI JOE – Retaliation movie hitting big screens this summer
Star Wars – 3D remasters of all 6 movies, with The Phantom Menace hitting big screens now
Marvel – Avengers and Spider-Man movies hitting big screens this summer
Most of the folks in the room were kids in the 80's, when we got half hour commercials for our favorite toy lines every Saturday morning. Hasbro is flipping that model – it's the media and entertainment that's the big business now. Every Hasbro brand team is looking for leverage on the big screen, TV, online, and video game markets, while toys get the benefit of riding on those coattails.
Did I mention that Hasbro has a Battleship movie coming out this year?