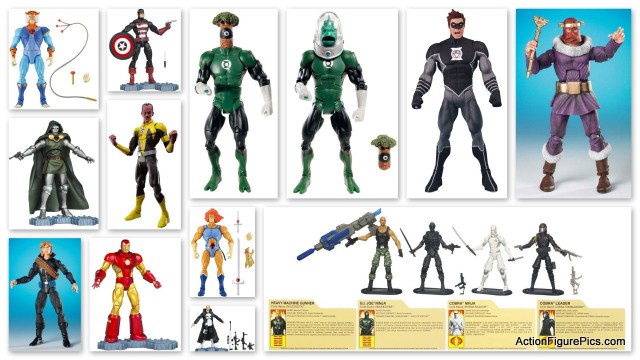 If you're still shopping online today, I know you're tired of getting gifts for your family and friends and have finally decided to take care of number one (that's you!)
Here's twelve action figure deals for under $12 that I found on Amazon. Best of all, these are all Prime-eligible, so you could really treat yourself to free 2-day shipping so that your presents to yourself don't arrive too far behind Santa's deliveries.
Happy last minute shopping for yourself!
1) ThunderCats Lion-O 8″ Collector Figure Classic – $6.18
2) ThunderCats Tygra 8″ Collector Figure Classic – $4.99
OK, these 8-inch versions of Lion-O and Tigra were stranded at the shelves by Bandai, but at these prices, how can you *not* get them? When these first came out, you had to pay almost double the price for just one of them. Ah, Bandai – you could have at least given us a Mumm-Ra in this scale, and not just Mumm-Ra disguised as Lion-O!
3) G.I. Joe Sneak Peek 3.75 inch Figure 4 pack – $9.13
G.I. JOE: Retaliation may have been pushed back, but the price on this 4-pack should really get you thinking about picking up a really early sneak peek. Get Road Block, Snake Eyes, Storm Shadow, and Cobra Commander at a great price, if you haven't already picked up their single-carded versions. (I'll only count this as one, even though there's four figures here.)
4) Marvel Classic Legends 6″ Figure – Iron Man – $5.43
Maybe including Iron Man in the Marvel Legends line is overkill when there's still a bunch of Iron Man product on shelves from his second movie and the Avengers, because this figure has been on sale for a while. The Neo-Classic armor is essential for any armory, though, so why not get him while he's at his cheapest?
5) Marvel Classic Legends 6″ Figure – Dr. Doom – $9.96
This Dr. Doom figure was originally part of the Fantastic Four Classics line, but the Hasbro re-release includes much improved paint apps (the original figure had almost none). Take off the removable mask and you'll see how it makes Doom's burnt up face even more gross than before.
6) Green Lantern Classics Nautkeiloi and Medphyll Figure – $9.60
I included these DC Universe Classics Green Lanterns in my Best of 2011 picks. On sale, they're an even better deal to fill out your Green Lantern Corps. Only two available at this price but a couple other Amazon Prime vendors still have them for under $10 each. (I'll also only count this as one, even though you'll want two so you can have both the fish guy and the carrot guy.)
7) DC Universe Classics Sinestro Collectible Figure – Wave 20 – $11.19
This height-corrected Sinestro rights the wrong that was perpetrated by Mattel way back in DC Universe Classics wave 3. And by "rights the wrong" I mean "makes him taller."
8) DC Universe Classics Hal Jordan Black Lantern Collectible Figure – $9.99
You can't have Sinestro without Hal Jordan, even if it's the Black Lantern version of Jordan who was a temporary blip in the Green Lantern mythos to enable him to fight Parallax and the Spectre during Blackest Night. Comes with SCREAMING FACE!
9) Marvel Classic Legends 6″ Figure – Marvel's Knight – $8.43
I wonder how many people haven't found this on Amazon because it isn't labeled as the Punisher? (Seriously – search for Marvel Legends Punisher on Amazon and this guy doesn't show up!) I really can't wait for the running change to Blade, so help a brother out and clear them out of these Punishers at this great price!
10) Marvel Classic Legends 6″ Figure – U.S. Agent – $9.62
Ditch the gun and knife (since he doesn't have anyplace to store them anyways) and this can be a stand-in for Steve Rogers during his time as "The Captain" – the costume's right but the shield is a little off, but who's going to notice? You were going to get an eagle shield for U.S.Agent anyways, right?
11) Marvel Legends Series 14 Action Figure Baron Zemo – $10.95
If we're going with U.S.Agent as an old school Cap, then maybe you want an old school Baron Zemo to face off with him. (I wasn't even going for an Adhesive X pun there!) This was one of the latter Toy Biz releases, and I'd probably get another at this price if the original I still have wasn't still in great shape. Wow – remember when action figures came with comic books?
12) Marvel Legends Series 14 Action Figure Longshot – $8.95
That Baron Zemo came with the Mojo BAF's head and upper torso, and if you're going to have a chopped up Mojo, then you need a Longshot to stand triumphantly over him. As a bonus, Longshot comes with his own portion of Mojo. Hooray for old toys!