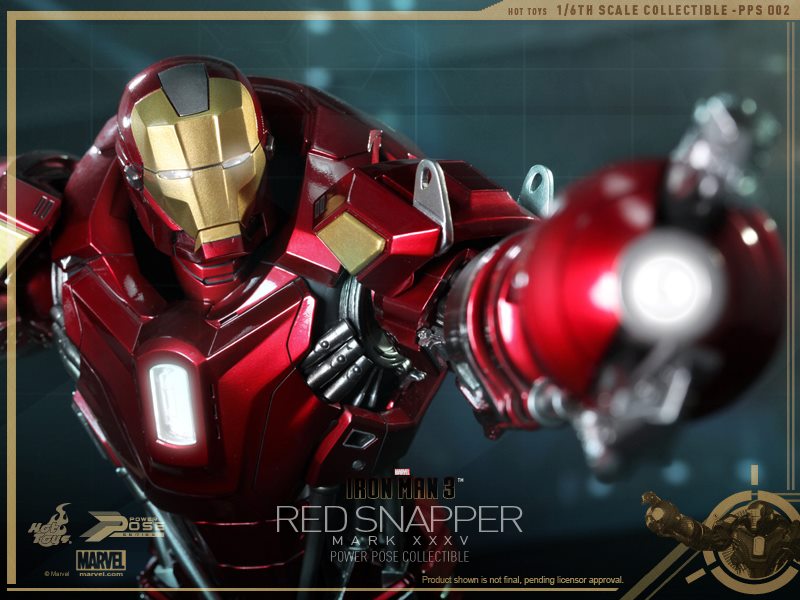 I take it back – I've been calling the figures from the Hot Toys' Power Pose line "statues" – and with their reveal of the Iron Man Mark 35 Red Snapper, I see that I've been wrong. Sure, the Iron Man Mark 42 Power Pose may be pretty limited in its articulation. It will have interchangeable parts to facilitate a couple of dynamic poses. But the Red Snapper features a bunch of articulation – maybe not the same as in Hot Toys' standard and diecast lines, but certainly enough to be wrong to call it a statue.
Hot Toys also shows how some parts will be interchangeable between Power Pose and the other Hot Toys Iron Man lines. You can swap an RDJ head onto the Red Snapper, and you can take those big claws and fit them onto another Iron Man. Hopefully we'll see the other two Iron Man armors Hot Toys announced with Red Snapper soon.
Iron Man 3: 1/6th scale Power Pose Red Snapper Collectible

Marvel Studios' Iron Man 3 is hitting the theatres this week! As you have probably seen from the trailer, a multitude of new suits will be introduced in the movie.

Today, we are excited to present one of the brand new armors from our Power Pose Series (PPS) – the 1/6th scale Red Snapper Collectible Figurine, the disaster rescue suit Mark XXXV with an extended arm-length and movable claw-like hands which can perform movie-accurate iconic poses and twists very closed to that in the movie, with LED light-up functions and figure stand with Red Snapper and the Stark Industries nameplate.

Collect the Power Pose Series together with the Movie Masterpiece Series and Diorama Series in 1/6th scale as some of the parts are compatible with each other!

For fans in Hong Kong, special arrangement has been made for pre-ordering of this 1/6th scale Red Snapper Collectible Figurine. For more information, please kindly visit Hot Toys Hong Kong Official Store – Toy Hunters Facebook Page.

Thank you! And please stay tuned with us for more updates in the future!
via Iron Man 3: 1/6th scale Power Pose Red Snapper Collectible.