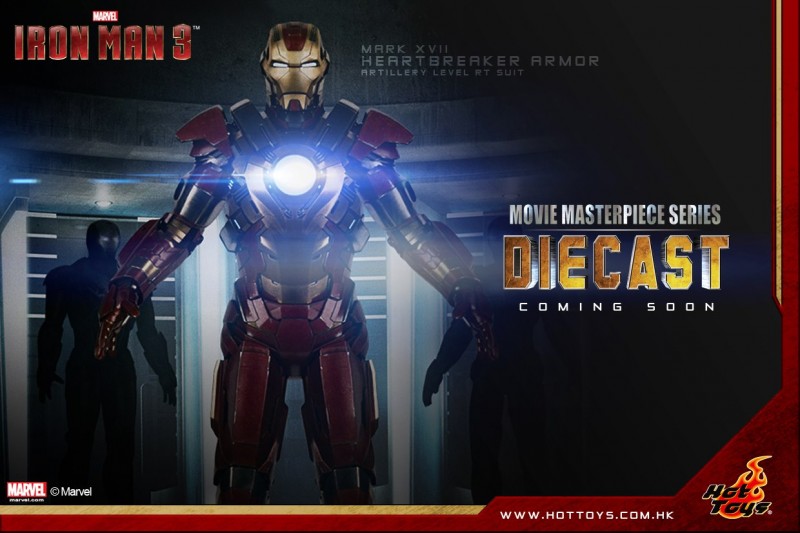 After watching the second Iron Man 3 trailer, the one with all those Iron Men, the first thing that crossed my mind (after "AWESOME!" of course) was "Hot Toys is going to have a field day with this!"
Today they announced three new armors from the movie, one for each of their 1/6 scale figure lines. For their premium Diecast line, it's the Mark XVII Heartbreaker, the artillery level RT suit – this is the third Diecast product they've announced, joining the Mark XLII and the Iron Patriot. For Movie Masterpiece, it's the Mark XXXVIII Igor, the heavy lifting suit – this one is reminiscent of the Hulkbuster armor from the comics, despite its blue coloring. And for the Power Pose line, it's the Mark XXXV Redsnapper Armor, the disaster rescue suit – it's joining the Mark XLII in the statue category.
And they're promising even more armors to come. My wallet is going to need a break, or at least a cash infusion from Tony Stark.
Introducing 3 New "Iron Man 3" 1/6th scale Collectible Figurines

Iron Man 3 is about to hit the theatres very soon and as you've probably seen from the trailer, a number of new suits will be introduced in the movie.

Today, we are excited to announce 3 of these suits are first to join Hot Toys' 1/6th scale collectible product lines: Heartbreaker for MMS Diecast Series, Igor for MMS Series, and Red Snapper for PPS Series.

We'll be bringing more suits into our different series, so fans please stay tuned for more in the future!
via Introducing 3 New "Iron Man 3" 1/6th scale Collectible Figurines.