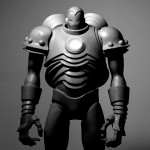 We got our first look at 3A Toys' Invincible Iron Man prototype over the weekend thanks to kadoo on the 3A Forums, who spotted the teaser poster at a convention in Asia. With the cat out of the bag, 3A posted the official teaser image on the 3A Blog last night. (Click the image for the full size view.)
Based on my first viewing I thought that this was still in its early stages, because the image notes that it's not final, plus I didn't see any articulation in the elbows (the knees are in the shadows). But Ashley Wood confirmed that the figure is already fully articulated – but that the joints won't be visible. Some folks are wondering if that means that joints like the elbows and knees will have rubber sheaths to hide them – I think that's likely the only way those types of joints could be hidden. Other points of articulation, like shoulders, hips, and torso, will probably take advantage of the design and sculpt to obscure them.
One other detail – the figure will clock in at around 13 inches tall.
via ThreeA Production Blog » IRON MAN- The World's Coolest Toy Company.