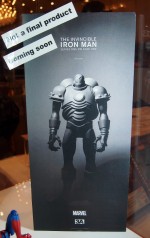 Kadoo from the 3A Forums has posted a teaser "from the Goodsmile Booth at Harikore" (not sure what company and show to which that refers) that reveals the first figure due from 3A Toys' Marvel license. And with Iron Man 3 crushing the big screen this weekend, it's fitting that the inaugural figure will be the Invincible Iron Man.
So – what do you think? Since this is not yet final and hasn't been painted, I'll just stick to my previous thoughts about the license and some general first impressions. When I had the chance to ask Ashley Wood about how he envisioned handling the Marvel license, at the top of my mind was the question of how stylized his re-imaginings of the Marvel characters would be. I think the Iron Man teaser answers that pretty clearly – when the finished product comes out, these figures will likely be more at home with other 3A lines rather than more traditional Marvel figure lines, like those from Hasbro such as the Marvel Legends Icons, or the Hot Toys Marvel movie figures.
With the uni-beam and distinctively shaped face plate on his helmet, this is unmistakeably Iron Man, but the lanky proportions and over-sized hands and feet, among other things, makes this a decidedly 3A figure. It is what I expected, but not quite what I was hoping for – the part of me that wants a mainstream comics-based Marvel line in 1/6 scale would have been ecstatic over a more literal interpretation, like 3A had done with its Star Wars prototypes and its upcoming Capcom Lost Planet figures.
But don't take that as disappointment. Rather, this direction will just need a little shift in mindset – from action figure to art figure. From that vantage point, I think I'll be better able to justify the triple digit cost, and better tolerate the long waits between art pieces.