Iron Patriot gets a makeover, reclaims the War Machine name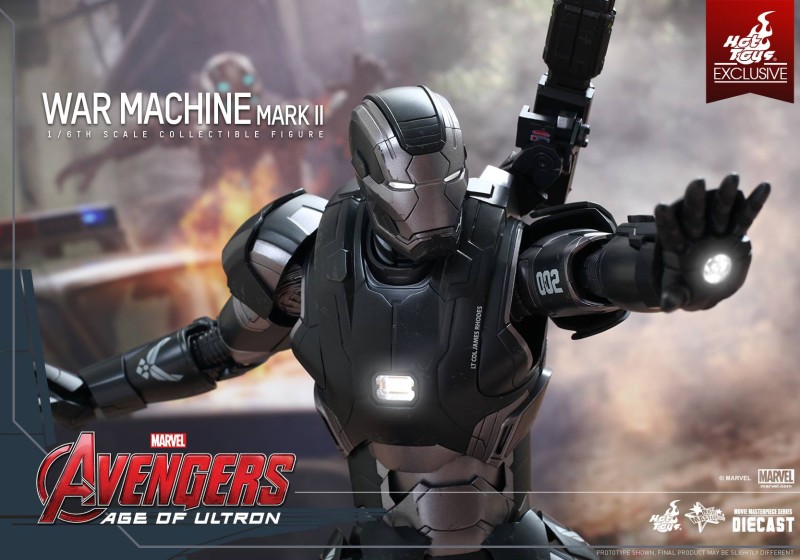 I'll be surprised if Rhodey gets a lot of screen time armored up as War Machine in Avengers: Age of Ultron. It hasn't been featured in any of the big action sequences revealed thus far. Despite this, Hot Toys is jumping on the opportunity to make another exclusive Iron Man armor. They can do this because War Machine Mark II looks like it's a repaint of the Iron Patriot diecast figure from Iron Man 3.
If you're disappointed Rhodey's armor didn't get an upgrade, get ready for a little more. Marvel Studios originally had the War Machine repaint ready to go for IM3, but it ended up on the cutting room floor. So if War Machine has more than a brief cameo in AOU, then they really cheaped out on him. How do I know this? Hasbro had a Marvel Legends War Machine Mark II ready to go to support the Iron Man threequel a couple of years ago. (It hasn't made it to shelves yet.)
No pre-order up yet, but I'll be checking Sideshow for War Machine later today. For reference, the Hot Toys Iron Patriot was $309.99 when it was first sold – that figure is waitlisted now.
Avengers: AOU 1/6th scale War Machine Mark II

The much awaited sequel, Marvel's Avengers: Age of Ultron, will be hitting the theatres very soon! In anticipation of the launch of this epic blockbuster, Hot Toys is excited to present the new 1/6th scale War Machine Mark II Collectible Figure as a Hot Toys Exclusive item! It is also the latest addition to our MMS Diecast Series which the collectible figures are made of diecast material, and realistically designed to look even more like the armor as it appears in the film.

The movie-accurate War Machine Mark II Collectible Figure is crafted with great details and based on the image of Don Cheadle as James Rhodes/War Machine Mark II in Avengers: Age of Ultron. It features a highly detailed head sculpt, metallic black and dark silver colored armor with decals, LED light-up functions, rotatable machine gun, and a specially designed Avengers: Age of Ultron figure stand.

Gear yourself up for this super exciting film and expand your Avengers: Age of Ultron collection with this diecast collectible figure as "War Machine rocks".