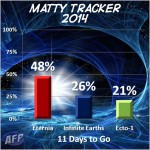 Toy Guru returns to YouTube to continue the push to hit the targets for Club Eternia, Club Infinite Earths, and Ecto-1 pre-orders. He also tries once more to squash the conspiracy theories about the meters. Repeat after Toy Guru: they are real – they are not a marketing ploy! Hey – repetition is a proven way to get a message across.
One of the more interesting remarks he makes is regarding the Club Eternia sign-up last year – he tells us that there was no meter on Club Eternia, because they thought they didn't need one. I guess their surprise at the implied drop-off (I have no idea what the subscription numbers are) is why we have a He-Man shaped silhouette on the Club Eternia sign-up pages for 2014.
I'm still collecting both Masters of the Universe Classics and DC Universe Classics – Ghostbusters died for me when I couldn't bring myself to buy that Dana Barrett. But I particularly feel for those of you just collecting DC. Maybe it's just leftover from last year, when the MOTUC bias was much worse, but it still feels to me like DC is the red-headed stepchild – this video is shot in front of current and vintage Masters figures. On the DC front, only Doomsday is name-checked. I know Toy Guru is a big DC fan, but with his favored JLU line completed, there doesn't seem to be any cohesive vision for what Club Infinite Earths should be – maybe that's why it's been hard to articulate why we should be buying the DC subscription.
Video: About the Meters & 2014 Subscriptions

For those of you who've asked, yep, the meters are real and Toy Guru gives you the full lowdown in this video.
via Video: About the Meters & 2014 Subscriptions.
As an aside, I don't envy the PR side of Toy Guru's job. Just check out the comments on the video – he hears a lot of shit from the folks he's trying to make happy.