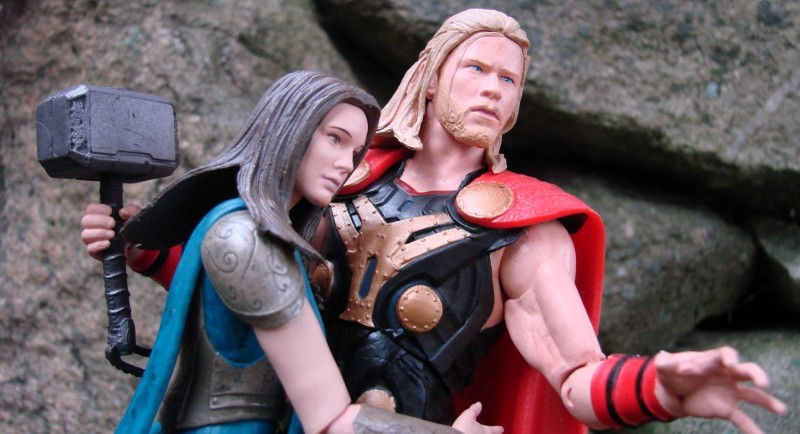 If you need a Thor fix (since Hasbro isn't making Thor Marvel Legends figures), then Diamond Select has you covered. Yesterday we shared some pics of the upcoming Thor Marvel Minimates, and today, we've got their Marvel Select figures. Thor was revealed a while back, but DST kept the wraps on the Jane Foster figure because she comes with some accessories that may be a bit spoiler-ish to those who haven't seen the movie yet.
I'm not going to spoil the movie either, but I do have to ask what you're waiting for – go see Thor: the Dark World!
New Photos of Marvel Select Jane Foster from Thor: The Dark World!

Thor: The Dark World is now out in theaters, and that means Diamond Select Toys can finally reveal the top-secret accessory included with their Marvel Select Jane Foster figure! In addition to her regular head, Jane comes with an alternate head, with piercing blue eyes to reflect her possession by the Ether. Both heads are based on the likeness of Natalie Portman, and they are easily interchangeable, so you can switch back and forth between Plain Jane and Dark Jane in an instant!

In addition to her alternate head, Jane Foster also comes with a Dark Elf weapon, which plugs into her rocky diorama piece. And if you also buy the new Marvel Select Thor, his diorama piece connects to hers to form a larger rock formation! check out pictures of them both below, and collect them both to build a scene from the movie! Thor is in stores now, and Jane will hit stores in early December — pre-order her today at your local comic shop or favorite online retailer.
via New Photos of Marvel Select Jane Foster from Thor: The Dark World! | Art Asylum Blog.