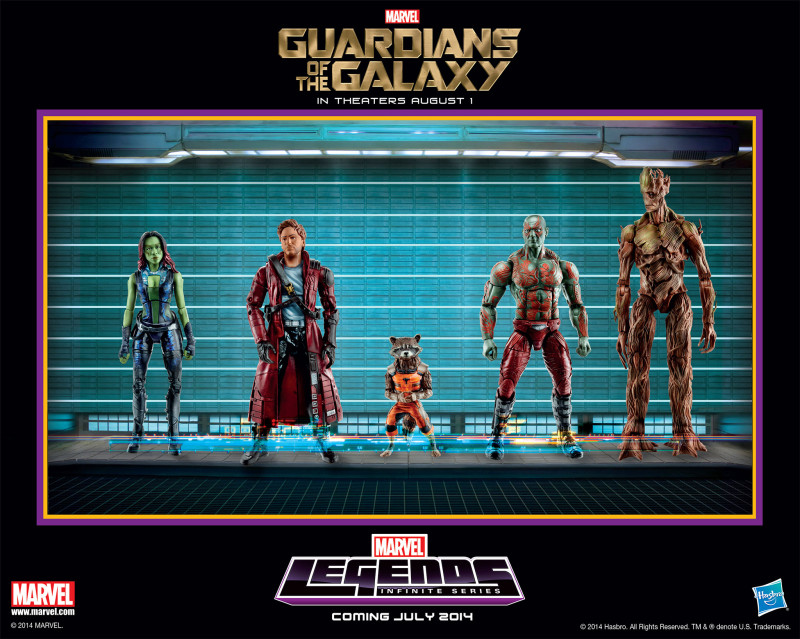 Our good pal Paul wrote in with the heads up that Hasbro has revealed the Marvel Infinite Legends movie figures for Guardians of the Galaxy through Yahoo.  Hasbro will be giving out a teaser poster for the line at Toy Fair starting this weekend – it features Gamora, Star-Lord, Rocket Raccoon, Drax, and Groot, in a homage to the first teaser image released for the movie.
The figures will be available single-carded, and Hasbro will stick with the Build-a-Figure concept. This time, it's Build-a-Groot. Look for these on shelves in July for $19.99 each.
Interested in the poster? Yahoo is giving away three of them. Details below.
First Official Look at Hasbro's 'Guardians of the Galaxy' Action Figures

Marvel fans are already jonesing to see "Guardians of the Galaxy" this summer, and today we're making the wait even harder as we present our exclusive first look at Hasbro's accompanying action-figure line via this special-edition 2014 Toy Fair poster.

As you can see below, Hasbro's 8×10-inch poster was inspired by Marvel's first official "GOTG" imageof the band of intersellar heroes standing in some sort of outer-space police lineup. The big difference being the Toy Fair poster uses Hasbro's 2014 "Guardians of the Galaxy" Marvel Legends Infinite Series 6-inch action figures instead of actors. (Oh, to be immortalized in plastic.)

The poster will be handed out to invited guests during the company's presentation at the American International Toy Fair this weekend in New York City. Even though the general public can't get their hands on one, we're giving away three of them! (Please see official rules below.)

[Related: 2014 Movie Preview: The 40 Films We're Most Excited About]

Hasbro's "GOTG" line includes six figures total. In addition to those pictured above — Gamora (played by Zoe Saldana in the film), Peter Quill/Star Lord (Chris Pratt), Rocket Raccoon (voiced by Bradley Cooper), and Drax the Destroyer (WWE superstar Dave Bautista) — attendees will be the first to see the two remaining figures when they're unveiled Saturday. And no, Groot (the tree-like creature voiced by Vin Diesel) doesn't count in this case because he's the Build-a-Figure character for the line; each figure comes with an extra piece that allows you to assemble your own Groot (and chop him down, if you see fit).

The Guardians, if you're unfamiliar, are a rag-tag team of adventurers lead by Peter Quill, aka Star-Lord (Pratt), who steals a powerful object that makes him the target of extraterrestrial villain Ronan (played by Lee Pace from "The Hobbit: Desolation of Smaug"). To stay alive, Quill has to team up with a band of outsiders, each with their own agenda: the deadly, green-skinned Gamora (Saldana), hulking Drax the Destroyer (Bautista), undersized but heavily armed Rocket Raccoon, and towering tree creature Groot.

So who's your favorite of the new toys? Which figure most resembles its big screen counterpart? We're slightly partial to Rocket and the build-a-Groot, but that could change when we get our hands on the individual figures, which will hit shelves in July and retail for $19.99 each. "Guardians of the Galaxy" opens in theaters Aug. 1.

Would you like to own this special edition Hasbro poster? Yahoo Movies is very lucky to have three posters to give away to three even luckier twitter followers.

Here's how to enter:

Step 1: Follow @yahoomovies on Twitter

Step 2: Tweet this message:

Blam! I want to win an exclusive @Hasbronews #GOTG poster from @yahoomovies: http://yhoo.it/GOTG #YGiveaway

Note: One entry per person/email address/Twitter handle.

Step 3: The giveaway ends 11:59 p.m. PT on February 21, 2014. Winners will be notified on Twitter and will receive a Direct Message with further information. Keep in mind, this giveaway is open to U.S. residents only. Read the full rules and regulations for the giveaway.
via First Official Look at Hasbro's 'Guardians of the Galaxy' Action Figures | Yahoo Movies – Yahoo Movies.