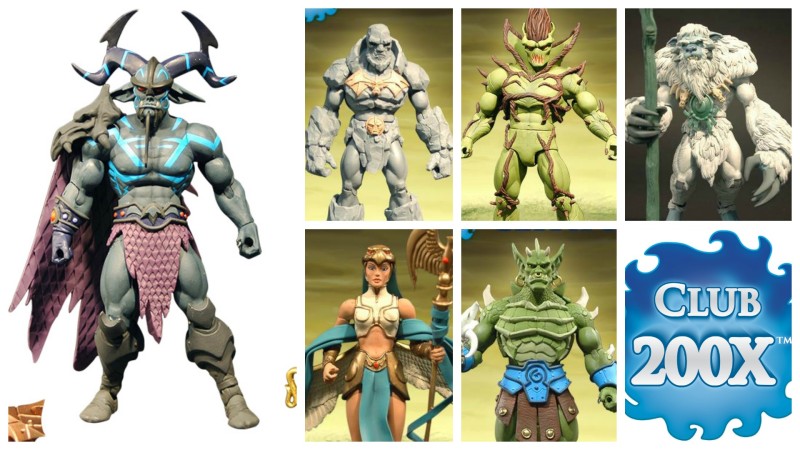 With less than a week to go, Mattycollector revealed the final figure, Prahvus – the Evil Master of Doom – for its under-subscribed and at risk Club 200X. As of the last official update, the six figure plus one exclusive accessory pack subscription was at 50% of the needed pre-orders to guarantee that all the figures would be made. (We looked at what might happen if Club 200X doesn't hit its target in our last Soapbox Sunday.)
Prahvus joins Callix, Evil Seed, King Chooblah (the Kulatak Elder), Ceratus, and Queen Grayskull as the six figures in Club 200X. The Heads of Eternia exclusive accessory pack includes MOTU 200X heads for Grizzlor, Buzz-Off, Sy-Klone, Roboto, Snout Spout, and Clawful. The subscription period ends Monday, March 23 – if you were still on the fence, is Prahvus enough to get you to sub?
Here are all the reveals thus far:
And the official press release from Mattycollector:
Club 200X™ Prahvus Revealed!
Subscription Enrollment Ends 3/23

There's a new big bad coming… Prahvus the Untamed! Club 200X™ delivers the Evil Master of Doom plus five more all-new characters – but only if you subscribe before 3/23.

Subscription enrollment is open only through Monday, 3/23 at 11:59 p.m. PT and figures begin shipping in July. Here's a look at Prahvus, the final figure to be revealed. Click here now for all the details and to sign up for this collection-essential subscription!

*As always, names, final production figures, and release dates are subject to change.
via Matty | News.