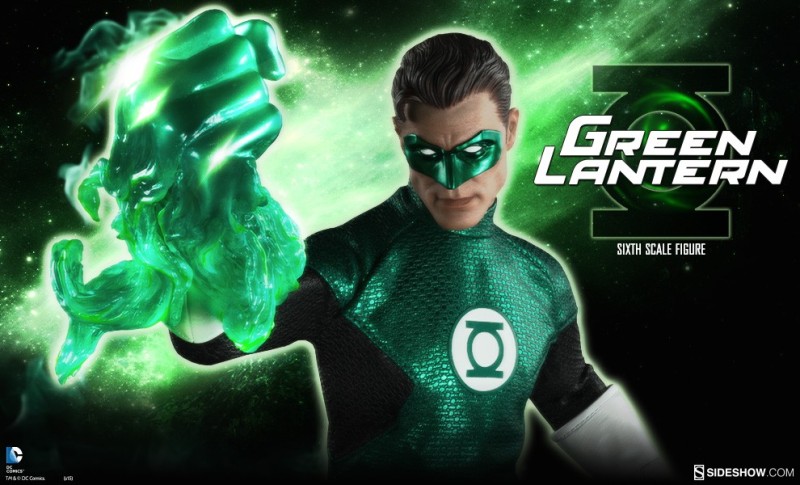 The Hot Toys figures from The Dark Knight trilogy got me jonesing for 1/6 scale figures from the DC Comics. And while Play Imaginative's Super Alloy figures captured my attention for a while, it wasn't until I got the Batman and Superman from Sideshow Collectibles' DC line that I found something that really satisfied the itch.
The latest in the line, the DC Comics Green Lantern DC Comics Sixth Scale Figure, is now available to pre-order from Sideshow Collectibles. It's Hal Jordan, my favorite of the Lanterns, and he comes with interchangeable hands and boots (for standing or flying), a power construct, and lantern.
While I think I'll ultimately end up ordering, I'm on the fence right now. It's not that I mind the nod to the modern costume (no green shorts here), it's more of the material used that's distracting to me. The textured material doesn't hug the figure as well as the traditional spandex does on Bats and Supes. But this is still at the prototype stage, so I am expecting them to improve the fit before production.
Green Lantern Sixth Scale Figure by Sideshow Collectibles

"In brightest day, in blackest night…"

Joining our celebrated DC Comics Sixth Scale Figure collection, Sideshow Collectibles is proud to present the next member of the Justice League – Green Lantern!

Limited only by willpower and imagination, Hal Jordan is Earth's first – and possibly greatest – member of the Green Lantern Corps! Proudly bearing the Green Lantern emblem on his chest, the masked hero is decked out in an exquisitely tailored version of his emerald green and black costume with shiny metallic highlights. Packed with powerful accessories he can pull from the pocket dimension, Hal Jordan wields his infamous ring, power battery, and massive green fist construct. Crafted with meticulous attention to detail on a fully articulated muscular superhero body design, the Green Lantern is sworn to guard and protect his Sector of the Universe – in brightest day and in blackest night!
via DC Comics Green Lantern Sixth Scale Figure by Sideshow Colle | Sideshow Collectibles.