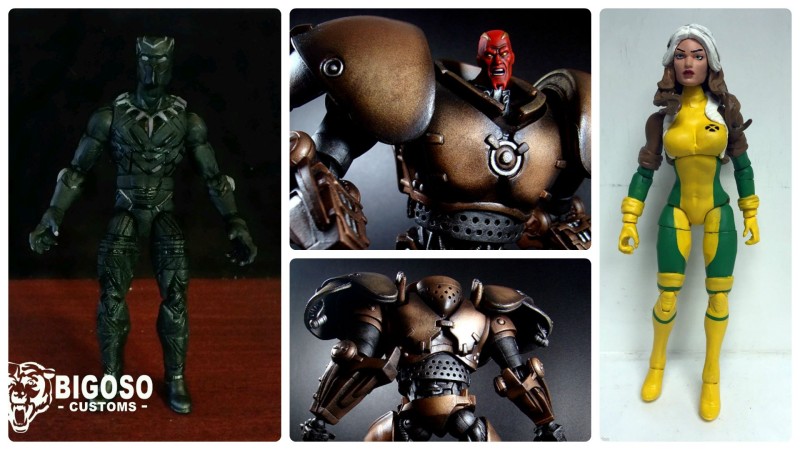 In this edition of Border Patrol, we've found three Marvel Legends customs that we're unlikely to see in the actual line any time soon.
Black Panther (movie) by bigoso_customs: The Black Panther movie isn't slated to be released for another three years, but there's nothing like getting a jump on getting the inevitable action figures for Marvel's Phase 3. The design is based on some concept art that's leaked for the movie. Ends Friday, July 24, at 9:44PM PT.
Red King by Loose Collector: Hasbro had originally planned to release Planet Hulk's Red King in a follow-up to the Hulk-themed Fin Fang Foom wave way back in 2008/2009, but that got shelved as the line lost traction at retail and went on hiatus. At that time, I don't think they could've matched what Loose Collector's done with this custom, but today? They may be able to come closer, but it's hard to see them making this character now. Ends Thursday, July 23, at 6:35PM PT.
Rogue by nartardee: Rogue is one of the remaining "lost figures" from when Hasbro made the switch from running changes for variants in the line – she would have been a swap-out for Emma Frost from the Jubilee wave. While this custom is from the Jim Lee costume vs the Marvel Now! look, it does highlight that there are better options available for the base body. When I talked to Dwight Stall at SDCC, he mentioned that if Hasbro does revisit the remaining lost figures, he'd probably re-do them now than releasing them as they'd been shown before. Ends Wednesday, July 29, at 4:29AM PT.
In AFP's Border Patrol, we scour active eBay auctions for customized action figures that you won't want to let slip by!

CustomCon 39 is coming! Entry deadline is August 1.