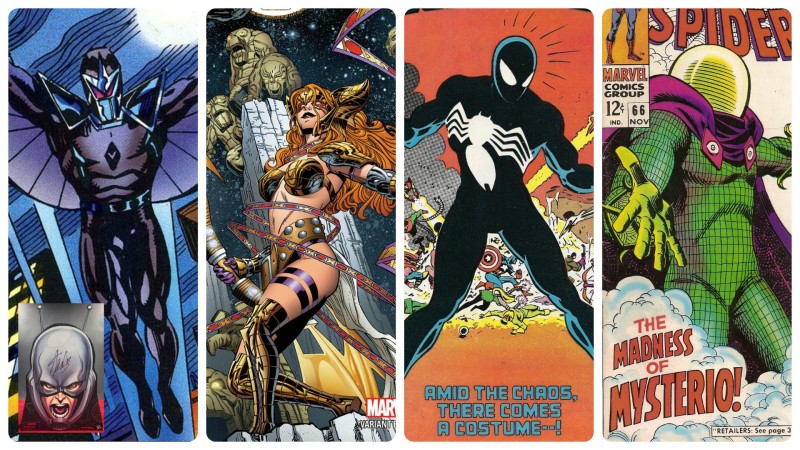 Hasbro is conducting a new Fans Choice poll for Marvel Legends on the Marvel.com site. The four finalists, Darkhawk, Angela, Symbiote Spider-Man, and Mysterio, were selected by fans from an initial set of 16 choices at the Hasbro booth at San Diego Comic-Con. To rock the vote, Marvel offered up the chance to win a Stan Lee autographed SDCC-exclusive Marvel Infinite Series (nee Marvel Universe) Ant-Man set if you retweeted their announcement of the poll. (The winner was to be the 100th person to retweet, and there've been many more who've RT'd already.)
Need some help deciding? We've got the history (including action figures) for each choice.
Darkhawk was introduced in 1991 in a solo comic that ran for 50 issues. Subsequently, he was featured in New Warriors and West Coast Avengers, and more recently had some cosmic interactions in War of Kings / Realm of Kings. His latest appearance was in Avengers Arena, which pitted 16 heroes in a life and death tournament – kind of like this Fans Choice poll. Darkhawk was a long-time fan favorite in the informal polls and finally got a figure in the Marvel Universe line. He's not had a figure in the 6-inch scale.
Angela got her start in 1993 as a supporting character in Image Comics' Spawn. Created by Neil Gaiman and Todd McFarlane, the two later fought over the rights to her character; Gaiman won, and then sold the rights to Marvel. Angela made the cross over to Marvel in 2013's Age of Ultron, and shortly thereafter was retconned to be the sister of Thor. She's had a few action figures from McFarlane Toys, but this would be her first on the Marvel side.
The black-costumed Spider-Man got his start in the original Secret Wars maxi-series that ran in 1984 – 85. I'm actually surprised that Symbiote Spider-Man has made it to the final four, because he's had a ton of action figures in the 6-inch scale, starting with the original Spider-Man Classics line that got its start prior to Marvel Legends. He's had several figures since in Marvel Legends and Spider-Man Legends. With all of the more recent symbiote action in the Spider-Man Marvel Legends Infinite Series, I suppose some people think it's time to bring the original symbiote back.
Mysterio has the longest history of the four, having been introduced in The Amazing Spider-Man #13 back in the 60s. He's been primarily an adversary of Spider-Man's, and was an original member of the Sinister Six. But with that much back story, he's had run-ins with other Marvel heroes, most notably Daredevil, and has also had a number of folks under that domed head. The costume is a classic, though, and there haven't been that many design tweaks despite the costume changing hands. Toy Biz made a fantastic 6-inch scale Mysterio with a face-changing gimmick back in 2005 in Spider-Man Classics; Hasbro re-released that figure with a metallic redeco in Spider-Man Origins Classics, shortly after they took over the Marvel license.
I'm undecided on who to vote for in the Fans Choice poll. I'm pretty sure a black-costumed Spidey will be made in Marvel Legends whether he wins the vote or not. I've got the Mysterio figure from way back already, so it's a choice between Angela and Darkhawk. With Hasbro's current base bodies, they'd be able to make a pretty stunning Angela, but I tend to discount the more recent additions to the Marvel universe – hers felt especially gimmicky.
That may leave me with Darkhawk as my choice. Who are you voting for?
VOTE FOR THE NEW HASBRO MARVEL LEGENDS FIGURE AND WIN

Pick between Darkhawk, Angela, Symbiote Spider-Man and Mysterio!

The fans at San Diego Comic-Con have spoken. Sixteen Marvel Heroes were up to become the new Marvel Legends figure, but now only four remain! The champions are Darkhawk, Angela, Symbiote Spider-Man and Mysterio and now it is up to you to vote for your favorite and choose who becomes Hasbro's next Marvel Legend!

The decision is in your hands. And to sweeten the deal, you could win a Hasbro SDCC 2015 Exclusive Ant-Man Figure Set signed by Stan Lee!
Source: Vote for the New Hasbro Marvel Legends Figure And Win