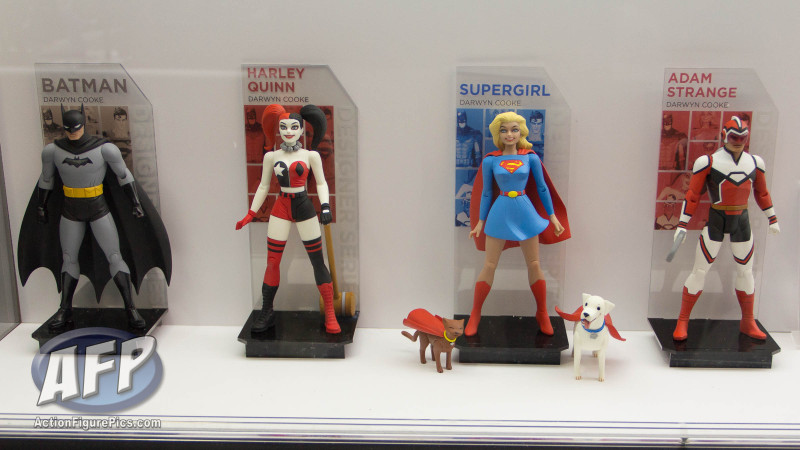 The competition for collectors has ramped back up between DC Collectibles and Mattel. For the past couple of years, one degree of competition had been eased up, with Mattel abandoning 6-inch scale by sunsetting DC Universe Classics. But with Mattel's move back to 6-inch, more overlap will occur. We'll keep that in mind as we go through the DC Collectibles offerings from SDCC.
DCC has excelled at creating artist-specific renditions of figures. They've done so since their inception, but have begun marketing Artist Series for a couple of years, effectively building a number of franchises within the line. Greg Capullo has been a mainstay and will continue, and Darwyn Cooke and Lee Bermejo should also develop the same kind of following among comics fans within the action figure collecting community.
With Mattel's Multiverse approach refocusing on modern comics renditions, we already see some overlap with Capullo's line – Mattel is relaunching Multiverse with a Batman and Joker based on Capullo's design (but not branded with his name). Batman was one of the earlier releases in the Capullo Artist Series.
DCC continues its Arkham Knight line with the addition of Professor Pyg, Azrael, and Man-Bat.
When DC Comics Icons was introduced at Toy Fair, I felt that DC Collectibles had introduced the spiritual successor to Mattel's DC Universe Classics. The intent of the line is to have DC action figures produced in a consistent scale (6-inches), articulation scheme, and look. And while those looks would draw from classic comics, the line would not be artist-specific – so all the figures would work together despite which comic they came from and who drew them.
I don't think they would have done this had DCUC continued. And while we're not seeing any direct overlap now, we may if this line starts picking from more current comic books.
The Joker, John Stewart, and Firestorm are the new additions since Toy Fair.
I also find it interesting that it's DCC that's mining the fan-favorite Batman: The Animated Series, after so many years of Mattel's Justice League Unlimited figures. Of course, DCC has upped the scale to 6-inches and added pretty decent articulation and accessories for its BTAS figures.
The line has been extremely well-received, but suffered from early quality control issues – the Bruce Timm character designs often translate into figures with some small and fragile joints, particularly in the ankles. This has caused DCC to push back some figures to improve quality, and thus we're seeing fewer new reveals here. Zatanna, Ra's al Ghul, Klarion the Witch Boy, and Etrigan look great.
We attended the DC Collectibles panel and should have video uploaded to our YouTube channel soon.