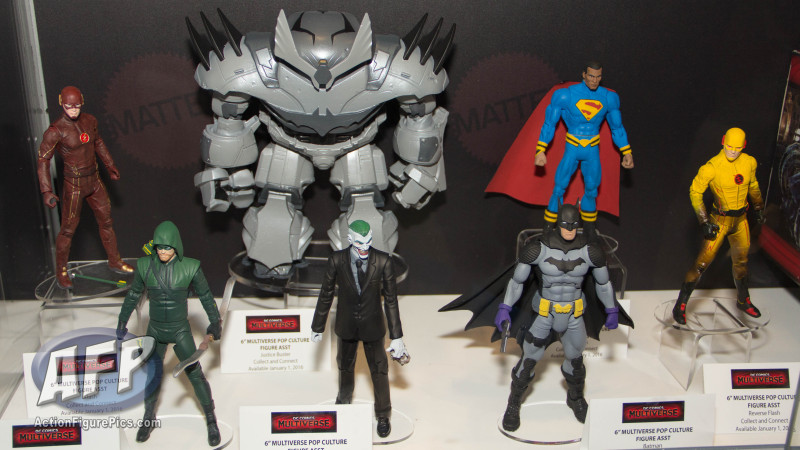 Mattel is putting 4-inch scaled DC figures on hiatus in 2016, and 6-inch scale is back in. And I'm wondering if there was some press release I missed, or if this change just happened and they didn't really announce it. (Mattel has got the traditional Mattypalooza panel, but no DC panel at SDCC this year.) Both scenarios are possible – I am not actively seeking news. But if I tell myself there's no way I would have missed a change this dramatic (as far as drama goes in toys), then it stands to reason that Mattel doesn't want to acknowledge any questionable decisions they've made handling their DC license in recent years.
You could even say that they're still putting some distance between what they're doing now and what they did so well under the DC Universe Classics brand. For one, even though the Four Horsemen are back on DC, it's not the same one to one relationship; Mattel is utilizing other design shops. If I had to guess, from the look of it, it's Gentle Giant expanding beyond their work on WWE.
Second, they're sticking with the DC Comics Multiverse brand name. And third, the line is rooted in modern, not classic character looks.
One callback to Classics is that they're bringing back the Collect and Connect concept they "rebranded" from Toy Biz / Hasbro. For the regular DC Comics Multiverse wave, the C&C is Batman's Justice Buster, which he used to fight the rest of the members of the Justice League.
When Mattel launched Multiverse, it didn't quite live up to its name initially, focusing solely on DC video game properties. Over time they added some of the older DC movies, but seemed embarrassed by their roots in the comics. In 6-inches, Multiverse draws from more sources. The TV shows are giving us Arrow, Flash, and Reverse Flash. The rest of this wave, with Joker, Batman, and Superman, have designs from the comics and the Four Horsemen behind them.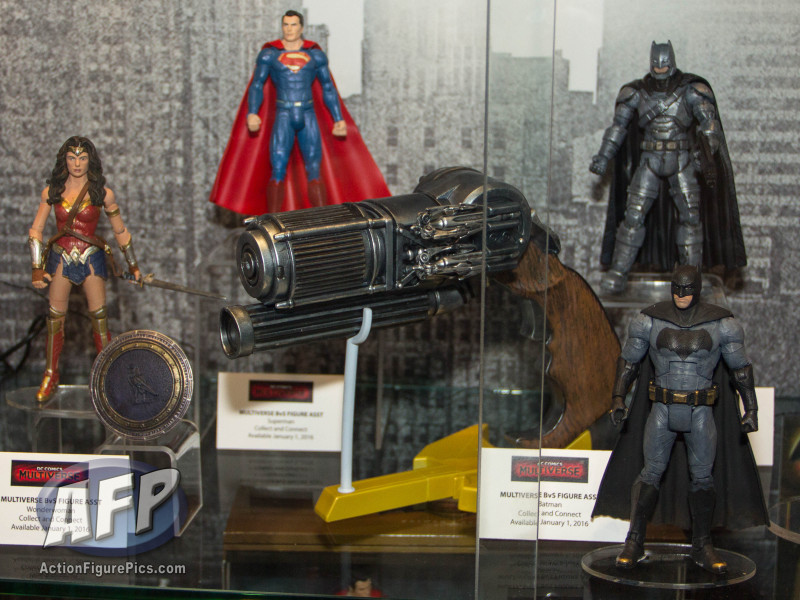 For movies, Mattel is taking a page from the Hasbro playbook, sticking with the main brand of Multiverse and sub-branding to align with the movie – in this case, Batman v Superman. Collect and Connect applies here too, with a Build-a-Grappling Gun.
The toy line previously known as Movie Masters kicked off with a BvS 2-pack exclusive here at SDCC. Bats and Supes get a follow-up at retail without the metallic deco. Now, while the Superman leverages the Man of Steel Movie Master, there's a new head.
I tried to convince myself that the Batffleck figure wasn't as challenged as it appeared in the official pics of the exclusive. The more I look at it though, the more I recognize it as the same figure. Too bad.
I spoke to the Four Horsemen in the afternoon – apparently they're doing work on BvS too – I think they designed and sculpted the Wonder Woman and Armored Batman.
To wrap this up, I'm glad we're seeing 6-inch scaled DC figures from the Four Horsemen again. TV, comics, and movies live up to the Multiverse brand. But since we're seeing the shift to modern characters and the use of multiple design vendors, it does seem to indicate that the Four Horsemen's role is not as firmly intertwined with Mattel's, as it was back in the DC Universe Classics days.