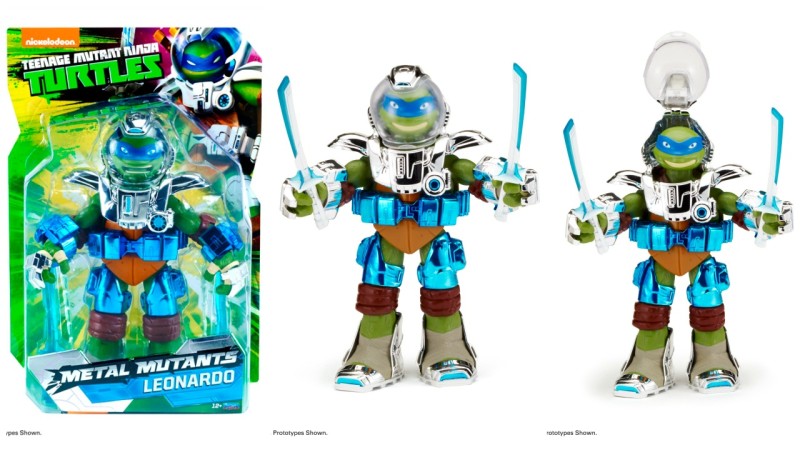 With Comic-Con right around the corner, Playmates Toys, the master toy licensee for Teenage Mutant Ninja Turtles, has shared more details about their plans for TMNT at the big show. As we previously posted, they'll be bringing back the Metal Mutants brand with an 11-inch Leonardo exclusive at the Nickelodeon booth – they gave us the official description and some more high res pics.
In addition, they'll be hosting a TMNT panel on Friday, July 10. We'll try to be there!
Teenage Mutant Ninja Turtles – Toys and Action Figures

Playmates Toys, the company behind the beloved Teenage Mutant Ninja Turtles toy line for over three decades, will be hosting a green-themed panel during Comic-Con. Please find additional details below. We look forward to seeing you there!

When: Friday, July 10, 2-3PM

Where: Comic-Con International: San Diego, Room 9

What:  Join the mutants behind the hit toy line for over 25 years! 'Team Green' marketers and designers will showcase what's new and next with TMNT master toy licensee Playmates Toys.

Panelists include: Karl Aaronian, Ray Geiman, Pat Linden, Jeff Trojan, John Stelzner, Georgia Manolas and Lisa Tauzin

Exclusive Comic-Con Teenage Mutant Ninja Turtles 11" Metal Mutants Leonardo Figure

The TMNT 11" Metal Mutants Leonardo figure from Playmates Toys will be available in a limited production run, available only at the Nickelodeon Comic Con booth. This deluxe 11" Leo figure is fully articulated and comes decked out with enough metal to take on the toughest space villain that dares to threaten earth! The figure is outfitted from head to toe with distinctive shiny silver and blue vacuum metalized space gear. Leo's space gear, which is completely removable, consists of an oxygen converter, an alien decryption translator and pulse boots. Leo is available for a MSRP of $50 and also comes with his signature Katana swords, designed with exclusive translucent blue blades.  Leo comes packed out in a highly collectible, giant 15" tall blister card and commemorative, 2015 Comic Con Exclusive mailer carton.