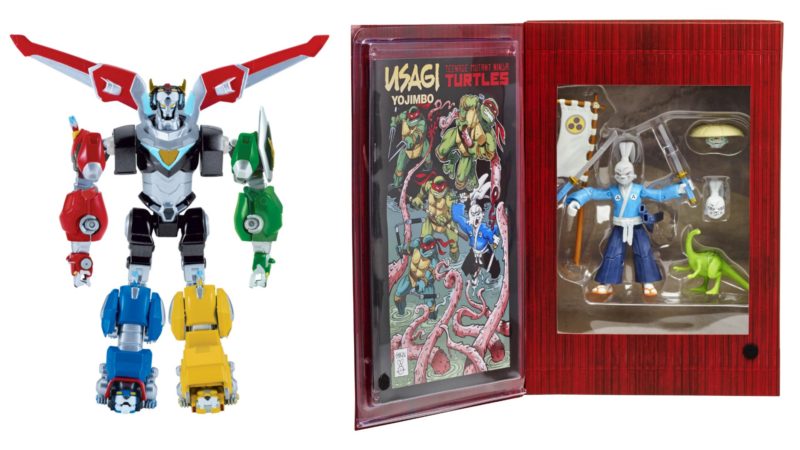 Playmates has revealed San Diego Comic-Con exclusives for two of its fan-favorite franchises. First, a diecast set of lions that form an 8-inch Voltron from Dreamworks' acclaimed Voltron: Legendary Defender. You can get the lions individually, but we all know you will get all five. No word on price yet, but to give you an idea, ToysRUs has a 16-inch Voltron set available now for $99.99 – but in this set the lions are plastic, not diecast.
They will also have an exclusive version of Stan Sakai's Usagi Yojimbo, perhaps best known for his cross-over with the Teenage Mutant Ninja Turtles comics and animated series. For $30 and limited to only 350 to be sold at SDCC, the rabbit ronin will come with 3 interchangeable heads, 2 comics, and even his pet lizard, Spot. As Spot would say, EEP!
DreamWorks Voltron Metal Defender Collection
Voltron fans can add to their collection with this assortment of Voltron figures from Playmates Toys in premium diecast. Assortment includes fully articulated figures of the Blue, Red, Black, Green, and Yellow Lions. Collect all five diecast lions to combine to form an 8-inch articulated Voltron figure. The detailed figures are first available from Toys"R"Us at San Diego Comic Con in the Entertainment Earth booth (#2343) from Wednesday, July 19 – Sunday, July 23, and online at Toysrus.com/ComicConvention from Thursday, July 20 – Sunday, July 23. The figures will also be available at Toys"R"Us stores and other retailers nationwide later this year.
Samurai Rabbit Usagi Yojimbo Figure
In Nickelodeon's 2017 Tales of the Teenage Mutant Ninja Turtles, the samurai rabbit Usagi Yojimbo will reunite with the Ninja Turtles once again for a three part story arc that airs beginning July 23, 2017. A limited edition of the 2017 Usagi Yojimbo new character design action figure, with just 350 available and sold exclusively at San Diego Comic Con, will be offered for $30 each from Thursday to Sunday (July 20-23) at Nickelodeon's booth, #4113.
This exclusive item features the newly designed Usagi Yojimbo action figure in a 5" scale, dressed in his classic blue robe, and comes with his traditional Samurai swords. Also included are two additional exclusive, interchangeable Usagi heads, his pet Tokage lizard, and a flag with Usagi's signature emblem. All this is presented in a collector edition 5th panel storybook package, with a re-run of the 1987 Comic Book "Leonardo Meets Usagi Yojimbo in Turtle Soup and Rabbit Stew", and the 1989 Comic Book "The Treaty".