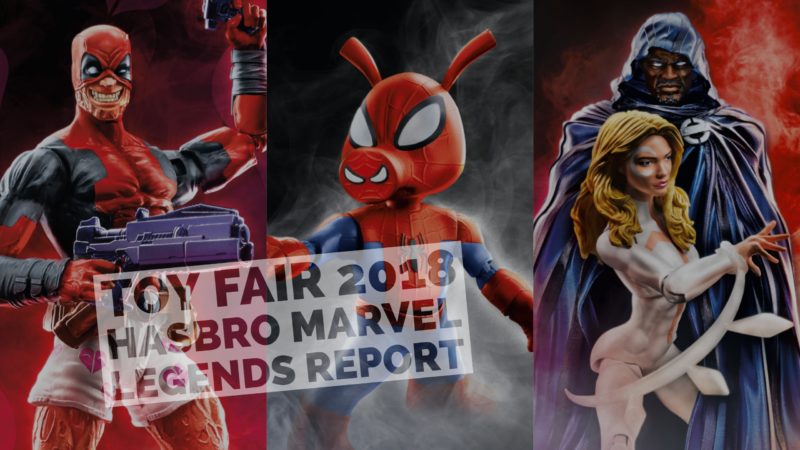 Finally, here's our Marvel Legends Report for NYTF 2018 – all the reveals, booth pics, official PR pics, and teases – all in one spot. While Hasbro shared much of what's to come throughout 2018, they still held back enough to keep us in suspense. Of all the waves covered in their Entertainment Brand Preview, all but one or two still have figures to reveal.
We'll cover them in the order they were discussed and include the pics we shot in the booth and the official PR shots Hasbro shared with us. Read on!
Ultimate Riders
For those of you hoping for a Professor X in his hover chair, please contain your disappointment. While we made the case for Charles Xavier at New York Comic Con, Hasbro made the safe choice by going with Wolverine in his civvies and his chopper (or does that bike belong to Cyclops?) You'll have the choice of Logan or Patch, via interchangeable heads, and whether he's popped or sheathed his claws.
While Hasbro said this is the last Ultimate Rider for 2018, who knows what they'll bring to the table if the line performs well. The Professor is one, but Hasbro raised the intriguing possibility that you could consider Lockjaw as the ultimate ride for the Inhuman Crystal. I'd go for that!
Wolverine joins Black Widow and Ghost Rider as the three Ultimate Riders this year.
Spider-Man Wave 2
Hasbro revealed a second wave of figures for Spidey. It's got the prerequisite Spidey variants in a House of M Spider-Man and another version of Scarlet Spider, featuring a new base body.
Cloak and Dagger fans will finally get theirs in this wave, no doubt helped by the upcoming TV series on Disney / ABC's Freeform network. Cloak was designed so his cloak and head would stand on its own, allowing him to envelop Dagger or others. The wave also includes another couple – Daredevil, in his Shadowland costume, and a new Elektra. Finally, Doctor Octopus rounds out the wave, completing Hasbro's take on the Sinister Six. Doc Ock tentacles will be fixed, not bendy, but you will be able to interchange the positioning of each for different tentacle configurations.
The Build-a-Figure for the wave is the SP//dr suit from the Spider-Verse crossover. One presumes it's Earth-14512's Peni Parker in the suit, which will stand between 8 and 9 inches tall.
Want more Spider-Verse? Hasbro's got you covered (see the Venom wave below).
Avengers Wave 2
The Avengers wave has been revealed to us in drips and drabs. We first saw Songbird at SDCC last year, King Cobra at HASCon, Taskmaster at NYCC and then Black Knight at MCM London. For Toy Fair, they added Malekith (with a new deco compared to the SDCC exclusive) and indicated that the movie Ant-Man and Wasp figures would be in the wave.
We will have to ask some clarifying questions, because that's already 7 figures and Hasbro has indicated there's still more to reveal. They've said that they're adhering to the very strict media blackout restrictions associated with movies (Avengers: Infinity War opens in May), so presumably there are some movie figures for the line. Furthermore, Ant-Man and Wasp don't have the same purple background in the official pics that the others do.
Is there some shuffling going on? Or do I have the facts mixed up or have waves combined? Let me know, and I'll also put in a question to Hasbro.
[Correction] Songbird, King Cobra, Taskmaster, and Black Knight are Avengers Wave 1, with the remaining figures and BAF still TBA. Malekith, Ant-Man, and Wasp are Wave 2, with the remaining figures TBA. Thanks to the folks who reminded me of this – I made the same mix-up after NYCC.
X-Men Wave
We've been waiting for the X-Men line-up since Hasbro teased the Apocalypse Build-a-Figure at SDCC last year. At HASCon, they followed up with Psylocke, Storm, and Wolverine. At NYCC, we got Gladiator and Jamie Madrox, the Multiple Man. Finally, here at Toy Fair, Hasbro revealed Magneto, in his Secret Empire costume, and a classic Jim Lee-inspired Sabretooth.
Venom Wave
Right before Toy Fair, Hasbro teased this wave with Venom and Carnage. Here, they revealed that those two figures would each come with alternate heads, Eddie Brock and Cletus Kasady respectively. In addition, they showed off Poison and Scream. And for those of you looking for more Spider-Verse or just plain awesomeness, how about Spider-Ham? The addition of a Pork Grind head that you can pop onto Venom makes Spider-Ham and this wave even more awesome!
The Venom movie opens in October, so we may have a bit of a wait before Hasbro reveals the rest of this wave.
Deadpool Wave 2 and More
In another pre-Toy Fair tease, Hasbro showed off three figures for a second wave of Deadpool for 2018: Deadpool in his X-Men costume, Omega Red, and Lady Deadpool. Here, we learned that Omega Red's carbonadium coils would not be bendy, but would be interchangeable with coils of different lengths. Also, Lady Deadpool would come with none other than fan-favorite Headpool.
They also revealed that the mutant with the best mullet in the Marvel Universe, Bishop, and the Deadpool variant you thought you'd never see, in pink heart boxers, are part of this wave. Hasbro held back revealing Sauron as the Build-a-Figure for the wave until the end of their presentation, making the pteranodon-infected, Savage Land-dwelling energy sucker the big reveal for the show.
In addition to the second wave of Deadpool Legends, Toys R Us has an exclusive 12-inch Uncanny X-Force Deadpool. And Hasbro revealed that we'd be seeing a Deadpool Nerf Rival Apollo blaster to accompany the Nerf Rival blasters exclusive to Game Stop and Best Buy that they announced at SDCC.
Retailer exclusives
Speaking of exclusives, the strength of the Marvel Legends brand continues to power a wide variety of retailer exclusives this year:
Black Panther with powered-up vibranium suit – Walmart
Thanos with new Infinity Gauntlet – Walmart
Erik Killmonger and Agent Ross 2-pack – Target
Klaw and Shuri comic 2-pack – Toys R Us (order)
Ant-Man and Wasp 2-pack – Toys R Us
Days of Future Past Wolverine and Sentinel 2-pack (no picture provided) – Toys R Us
Thing with interchangeable heads (closed mouth / baring teeth) and hands – Walgreens
Silver Surfer – Walgreens
Marvel Studios The First Ten Years
Both Marketing Manager Ryan Ting and Designer Dwight Stall pointed to the "Marvel Studios – The First Ten Years" line extension as what they will be proudest to see make it to shelves this year. To celebrate 10 years of Marvel Studios movies, Hasbro will release 10 packages. Each one is tied to one of the movies in Marvel Studios' first ten years.
From a marketing standpoint, this one-off set of Marvel Legends products is unique. They may be single figures or multi-packs. They may be available from all retailers, or be exclusive to one or more retailers. Some figures are re-issues (using Hasbro's Face Printing technology when possible) while some are finally getting to shelves after being revealed long ago. Some figures are completely new.
This necessitates that packages be different sizes, but the side panels still form a unique look at a mural composed of MCU imagery from the past ten years.
Here's what's coming (movie – figures – availability):
Iron Man – Tony Stark and Iron Man Mark I – Walmart (pre-order)
Captain America: The First Avenger – Red Skull and Hydra Soldier – TBA
Avengers – Iron Man Mark VII – mainline (pre-order)
Iron Man 3 – Iron Man Mark XII (Hot Rod), Pepper Potts, and the Mandarin – Toys R Us (pre-order)
Thor: The Dark World – Thor and Sif – TBA
Guardians of the Galaxy – Ronan the Accuser – GameStop (pre-order), Big Bad Toy Store, Entertainment Earth
Avengers: Age of Ultron – Iron Man XLIV (Hulkbuster) and Hulk – Target
Ant-Man: Ant-Man and Yellowjacket – TBA
Captain America: Civil War – Captain America and Crossbones – mainline (pre-order)
Avengers: Infinity War – TBA – TBA
Wrap-Up
Finally, here's a few tidbits to complete this report:
The Gamerverse 3.75-inch 2-packs, with Marvel and Capcom characters facing off, are going mainline later this year. The Iron Man / Mega Man 2-pack was exclusive to Target last year.
While Hasbro will continue to look for opportunities for more 3.75-inch figures, none are currently in plan.
Black Panther and Wolverine are the last 12-inch Legends for this year.
That does it for this Marvel Legends update! How'd we do? Let us know in the comments below.
And stay tuned for more announcements. With Avengers: Infinity War opening in May, we should be hearing from Hasbro about the Avengers wave and the Infinity War package from the Marvel Studios wave soon.