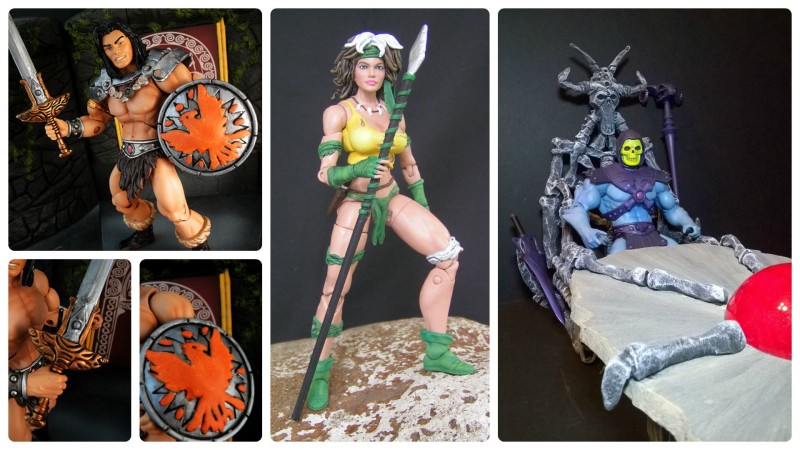 We dip into the fantasy genre with this edition of Border Patrol!
Conan the Barbarian by Insidious Customs: Some sculpted hair and weapons details plus a smooth paint job converts a Masters of the Universe Classics He-Man into Conan. With a week still left to go, the auction has already topped $300. Ends Wednesday, August 5, at 12:43PM PT.
Marvel Legends Rogue (Savage Lands) by Ole Jade Jaw: Nothing like a torn-up costume to turn skin-fearing Rogue into a Savage Land jungle babe. Rogue started off her comic book career as an ugly mutant, but Jim Lee turned that around right quick. Ends Sunday, August 2, at 8:39PM PT.
Masters of the Universe Classics Bone Throne and Scrying Table: This previously-owned custom was the ultimate playset for Skeletor, until Mattel revealed their Snake Mountain, of course. Mattel also showed off a Bone Throne, but at this point it's not certain if it will be made as part of Snake Mountain or as a separate accessory. In any case, this might be you best shot at Skeletor's scrying table. Ends Saturday, August 1, at 1:30PM PT.
In AFP's Border Patrol, we scour active eBay auctions for customized action figures that you won't want to let slip by!

CustomCon 39 is coming! Entry deadline is August 1.