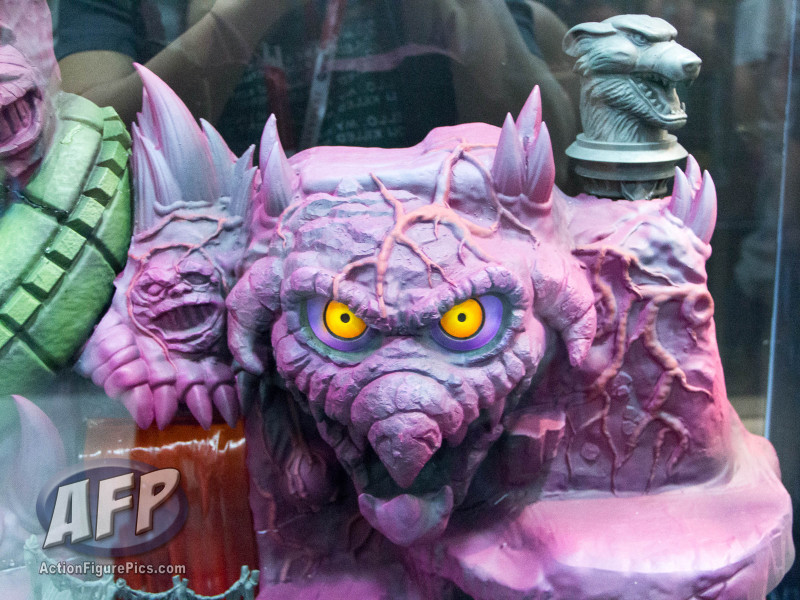 Remember when I said I thought Mattel would shut down Mattycollector after 2015? When I saw Mattypalooza on the schedule for Comic-Con, I started prepping for this: I was wrong. 😀 I'll write about my conversation with the new team soon, but in the interest of time, here's what's coming:
Collector's Choice – a six figure Masters of the Universe Classics subscription with Lord Masque, Vultak, Darius, Crita, General Sunder, and a Horde Wraith. Despara is the sub exclusive.
Power-Con will have three redeco exclusives – Granamyr in green, Beast Man in red, and Khan in camo
He-Man and the Masters of the Universe – a new A-list sub in Filmation style with Classics articulation – He-Man, Trap Jaw, Skeletor, Beast Man, Evil-Lyn, and Clawful. Evil Seed is the sub exclusive.
Snake Mountain – 'nuff said
Thundercats – a new subscription starting July 2016, with Lion-o and Jackalman revealed. A withered Mumm-Ra will be the sub exclusive.
---
Mattel Collector: MattyPalooza!
Mattel has some very exciting news about the future of Masters of the Universe Classic, plus a ton more. The panel will include a Q&A with Mattel toy designers, the Mattel marketing team, and The Four Horseman, plus a special treat for fans. Tons of reveals and surprises are in store.
---
Collector's Choice
How's this line-up for you?
He-Man and the Masters of the Universe
Who is the black variant He-Man? I know he doesn't belong in the Filmation sub, but he was on the same shelf. We'll try to find out.
Snake Mountain
I don't think you'll ever hear me utter these words about a play set again: it's too big. Don't get me wrong – this thing is massive, and it is awesome. It's just that if you think you have a tough time finding a spot for Castle Grayskull in your home, in its present state, you will be overwhelmed by Snake Mountain. I think the challenge will be finding how to make it practical for your home but keeping the awesomeness of it all.
There are details inside Snake Mountain, but they are going to be tough to photograph. And I think with the size due to change, the inside will too. One accessory that I hope will stay intact is Skeletor's Bone Throne. I had been wondering how I was going to get a throne for Skeletor – this one is perfect. I'd buy it as a separate item.
Thundercats
I know there are a ton of Thundercats fans who will be ecstatic to have a truly collector-oriented line. And for fans of Masters and Thundercats, this is a crossover dream come true. Eric Treadaway said that this was the fourth Lion-O sculpt he's done – I'm assuming he means the head. As he continues to iterate, I hope that the design fast forwards through what we saw with MOTUC; by that, I mean that I don't want a "Classics" update of the vintage toy – I want to get a Rankin/Bass interpretation now.
That's it for now. We were at the Mattypalooza panel. I filmed it, and it will be on our YouTube channel soon. [Update: panel video added above.]