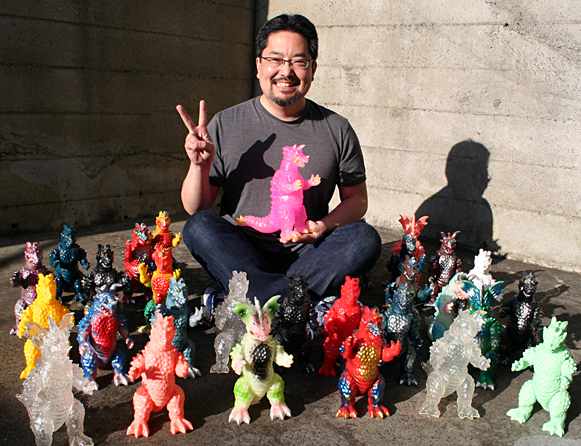 Mark Nagata of Max Toy Co was kind enough to speak with Jedd-the-Jedi at STGCC. If you missed it, click here to check out the first part of the Mark Nagata interview. In the conclusion to the interview, Mark tells Jedd about finding his toy Holy Grail, his top five toys, and more!
Do you have a special story of a collectible toy of any kind that you obtained through extraordinary circumstances? Have you gotten a hold of something you never dreamed you'd be able to own in a million years, something so extremely special?
(Laughs) Yes, I do! Yes, I do have a story about that. So, there's a Bullmark figure, which is a Japanese company from the 1960s and 70s, and they issued, in very small numbers, a standard size Ultraman figure in red vinyl. Now the reason why they released it in red vinyl is they were hoping the colour red would appeal to girls, instead of the grey or like silver colour of what Ultraman is supposed to be. But Ultraman never was red in the series, and then the girls hated the figure anyways, so it never sold, it was a flop for them.
So going forward when I started collecting the figures in the late 80s-early 90s, and I'm doing research about all the different types of figures I had to find, when I found out about the red Ultraman that was always at the top of my list, like if I go back to Japan I've gotta look for this, or if I'm looking at eBay or Yahoo Japan or something I gotta find this. So on one trip to Japan, we were in the Nakano mall, which is a very famous mall with like different shops, like Mendorake and toy stores.
One of my friends said "Hey, go look over in the case; I think that's something you're looking for!" So I walk over there and there's a red Ultraman sitting there right, so I was like "oh my God", and I had to find out, I had to go over and ask how much, right? So I went over and in my very, very poor Japanese asked "Ikura desuka?" – you know, "How much?" And the guy goes "$5,000" – USD $5,000. I just thought… "I can't, I can't. My wife's gonna kill me!" And I only had $2,000, that's all I had – for the whole trip, so no way, and I don't wanna use credit card or anything. So all my friends said "Oh, you know, I'll loan you a couple of hundred dollars, maybe you'll get enough to make a big pool or something," and I said "No no no, I don't want to have to owe you guys!" So, I left.
Continue reading "STGCC 2012: Interview with Max Toy Co's Mark Nagata – Part Two"