Pre-sales for Queen Alluxandra and her Royal Council will begin this upcoming Wednesday. The Store Horsemen will be the only place get a complete set of the Royal Council and the mutant variant, Silissk. Here's the official announcement, after which I'll recap each of the figures and their inspirations.
The Four Horsemen have announced that they will begin taking pre-orders for "Queen Alluxandra of the Bluddmane Clan", "Isadorra of the Ironspynne Clan", "Siliskk the Mutant" and full sets of "Queen Alluxandra & Her Royal Council", all characters from their fan favorite property "7th Kingdom", beginning at 8pm est on Wednesday July 1st.

Although Queen Alluxandra and Isadorra will be available at both Store Horsemen (http://www.StoreHorsemen.com) and on hand at the 2009 San Diego Comic Con, the ONLY place you'll be able to get Siliskk and the Royal Council Set will be at Store Horsemen!

Queen Alluxandra and Isadorra will be $20.00 each (plus shipping – if you're not purchasing them at SDCC) or you'll be able to pre-order the pair together for only $35.00!
Siliskk will be available in very limited numbers only through Store Horesmen for $20.00 each, plus shipping. Queen Alluxandra & Her Royal Council will retail through Store Horsemen only for $220.00 for the full set of 11 figures.

The Royal Council set will include Queen Alluxandra, Isadorra, Siliskk, Kromius, Ccora, Akkuli, Biggara, Badathiir, D'zwirra, Oktobria and Raavia.

Royal Council sets are going to be limited to only 125 sets, so be sure to place your order early, because just like past 7th Kingdom sets, these are expected to sell out quickly!
Queen Alluxandra, Isadorra, and Siliskk
Four Horsemen
http://www.StoreHorsemen.com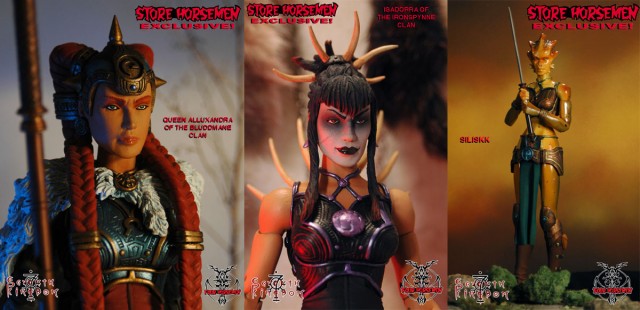 At last year's San Diego Comic-Con, the Four Horsemen sold a set of Timekeepers from Gothitropolis. The Timekeepers are companions to Scarabus, who was intended to be the Gothitropolis headliner from this year's Fantastic Exclusive. They decided, however, to switch it up and return to the Seventh Kingdom with Queen Alluxandra and her evil counterpart, Isadorra.
In addition to the two queens, the Four Horsemen also intended to have a third exclusive as a thank you to the fans. Siliskk fills that spot and joins Ggruxx and Ssejjhhorr representing the mutant faction within the Seventh Kingdom.
Akkuli
Action Figure Express
http://www.shopafx.com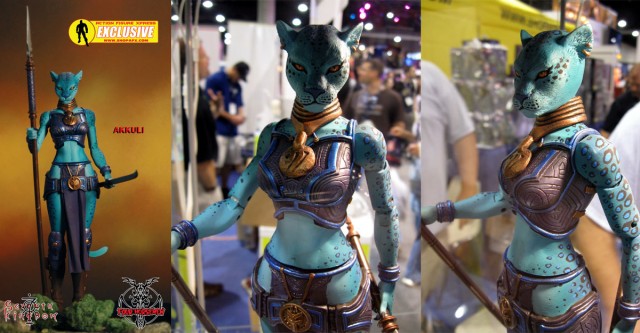 Akkuli is the initial cat variant that was on display at the Four Horsemen's booth at San Diego Comic-Con last year. She does not have a counterpart in nature, but is based on a fantastical blue feline. She will be available online and, if supplies last, at Action Figure Express's booth at San Diego.
Badathir and Biggara
Big Bad Toy Store
http://www.BigBadToyStore.com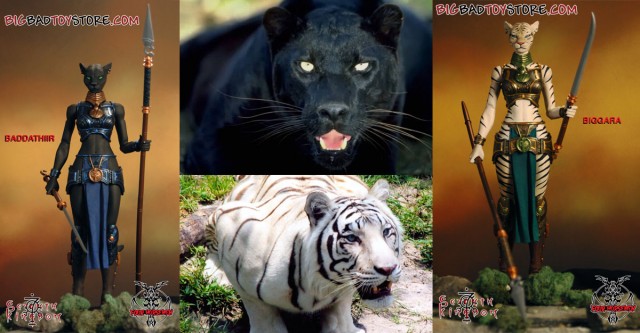 Big Bad Toy Store will have a pair of variants that will look great together. Badathir is based on the black panther and Biggara is based on the white tiger.
Ccora
Corner Store Comics
http://www.CornerStoreComics.com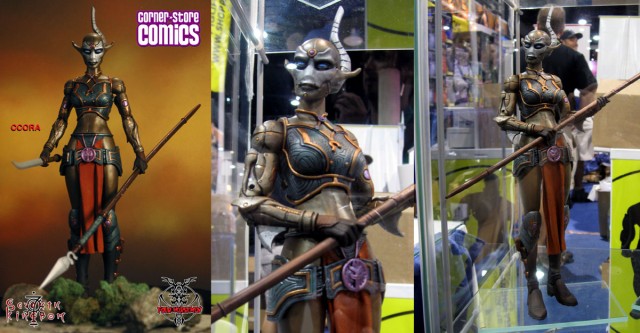 Ccora was also on display at San Diego Comic-Con last year. She's another humanoid and features robotic elements.
Kromius
TheFwoosh.com
http://www.TheFwoosh.com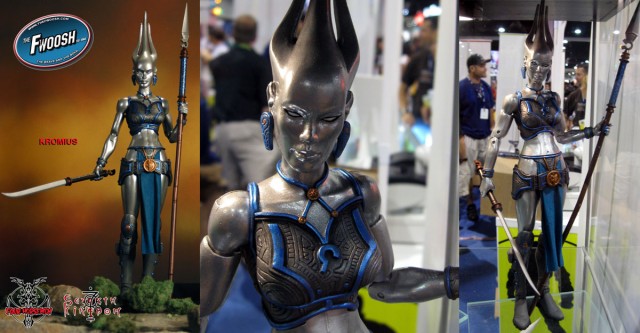 Kromius was also on display at San Diego Comic-Con last year. An elemental, she's described as a key member of Queen Alluxandra's "United Guard" – a unified peacekeeping force representing the five active kingdoms.
Oktobria
October Toys
http://www.OctoberToys.com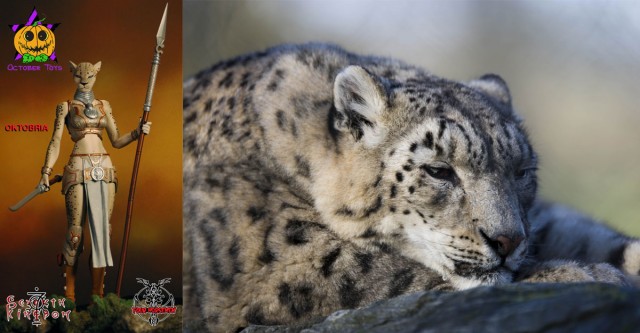 Oktobria is another one of the feline variants. She is based on the snow leopard and will be available both online and at San Diego.
Raavia
Raving Toy Maniac
http://www.ToyMania.com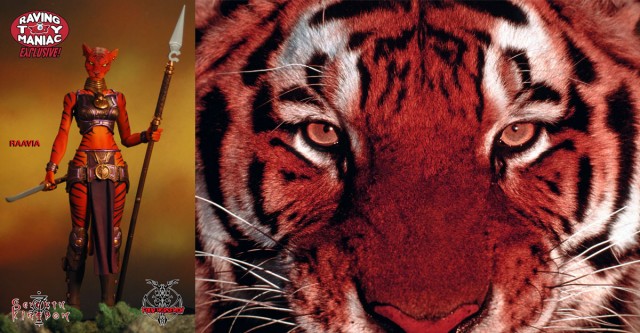 Raavia is the other cat variant that does not have a direct counterpart in nature. Described as a "crimson tiger," she was designed by Rob and Bobbi at Raving Toy Maniac.
D'zwirra
Wizard Magazine
http://www.WizardWorld.com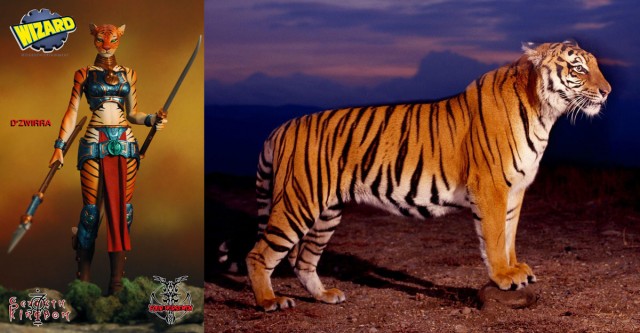 D'zwirra is the final cat variant, and is based on the Bengal tiger. Wizard Magazine will be making her available at various Wizard World conventions throughout the remainder of the year.