In an industry that is dominated by licensed properties, the Four Horsemen have forged ahead with the Seventh Kingdom, a non-licensed property of their own creation.  Seventh Kingdom is one line within the umbrella of the Horsemen's Fantastic Exclusive, in which fans help determine the product characteristics, like character selection and articulation.
The Seventh Kingdom's Queen Alluxandra and Isadorra are part of the 3rd round of Fantastic Exclusives.  The first round was headlined by Xetheus the minotaur, and the second was headlined by Ramathorr the elephant, both from the Seventh Kingdom as well.  I picked up Queen Alluxandra and Isadorra at the Four Horsemen's booth at San Diego Comic-Con.
The packaging features a plastic bubble on pretty sturdy cardstock.  The bubble affords a pretty good look at the figure within, with all but the feet fully exposed.  A very nice feature is that there's no staples or glue holding the bubble in place.  The card can be easily removed for access to the clear tray inside, and replaced.  So there's no need to choose whether you want to display your figures on card or loose.
I am not sure if this is intentional, but the card and paper insert in the bubble were identical on both figures, highlighting Alluxandra – perhaps a cost-reduction choice.
The card back provides background first on the Seventh Kingdom, and then on this round of figures, the Queen and her court.  Alluxandra and Isadorra are the first two, and in total there are eleven.  I put together a primer on the round a few weeks back: Fantastic Exclusive Queen Alluxandra and Her Court – Pre-sales and Series Recap.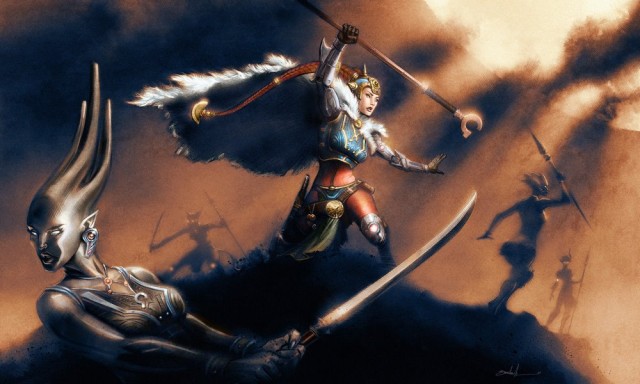 Also featured on the card back is original artwork by Nate Baertsch, aka Baena from the Fantastic Exclusive Forums.  I met Nate on one of my stops at the Four Horsemen booth.  You should check out more of his art work at Nate Baertsch Illustration.  Very cool stuff!
Queen Alluxandra of the Bluddmane Clan
This is simply a beautiful figure.  There's just so much intricate detail and gorgeous paint on her that you just have to admire the Horsemen's love of action figures.  I think Alluxandra has the prettiest headsculpt to make it through to production on any of the Horsemen's work.  For accessories, she comes with a staff (which I was told could be fragile, so remove from the package carefully), a sword, and a dagger, which is removable from the scabbard on her belt.
She's got a lot of articulation: ball-jointed neck, ball-jointed shoulders, bicep swivels, double-jointed elbows, wrist swivels, ab crunch, ab swivel, ball-jointed hips, thigh swivels, double-jointed knees, ankle hinges, and some really great ankle tilts – best I've seen in a while, having gotten accustomed to the lack of them in their work on DC Universe Classics.
On Alluxandra, it's a shame that a lot of this articulation is hindered by her accoutrements.  Her cloak is fairly thick and won't stay bent.  It restricts the lateral movement of her shoulders.  It's also pegged into her back, so while her head pops up fairly easily, you'd have to deal with some glue to take her cape off.  The "skirt" that does such a nice job of hiding hip articulation also hinders the range of motion you're going to get out of the legs.  It's a separate, flexible piece that's painted to match the body suit color in the right spots, so I wondered when the first pictures came out if there was any articulation there at all.
So, while you won't be getting a lot of extremely dynamic action shots with her, she still holds some pretty nice vanilla poses.
Isadorra of the Ironspynne Clan
Her evil counterpart (I'm making the natural assumption here) has identical articulation, but fares a little better in the range of motion.  Instead of a cloak, Isadorra has a set of spines pegged into her back, so there's nothing in the way of arm movement.  However, she does have the same kind of "skirt" as Alluxandra, so that's about the same.
One thing to be careful of – I quite easily ripped the top half of her right elbow joint because the bottom half of the joint was stuck.  The arms are skinny and the joints are not PVC, so they will be prone to breakage if not handled carefully.  The rest of the articulation is solid – again, I am drawn to the ankles and wish there was more I could do with leg movement – so just watch out for the arms.
The headsculpt here is also very pretty, in an eeeeeevil way.
One thing I noticed is how well these two figures fit in across my toy collection.  I couldn't stop taking pictures of them, because there were just more and more toys I wanted to shoot.  They of course fit in great with Seventh Kingdom.  But they also look like they'd fit in great with Masters of the Universe Classics (but we'll need a Teela to make sure), and with my Marvel Norse Gods – Thor from Marvel Select, and Loki from Marvel Legends.  I wish I had a Legendary Heroes Conan figure handy, because I think they'd look great with him too.
I'm going to be picking up a bunch of this wave of figures.  Of the upcoming variants, I think my favorites are Kromius from TheFwoosh.com (I helped pick that one) and the black cat, Baddathiir from Big Bad Toy Store.  Which ones are you getting?