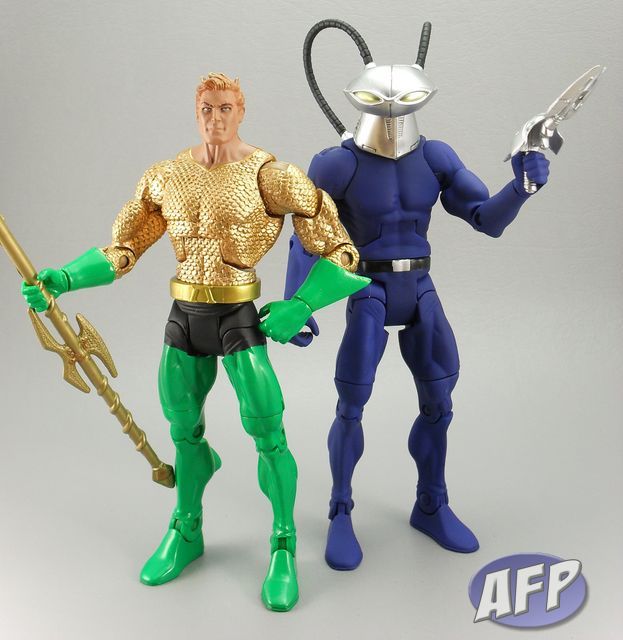 I wasn't going to buy this set but I stopped in the only DC Universe Classics stocking Wal-Mart a couple days ago and discovered that, due a reset of the Toy Department, all of the DCUC stock had been moved to a clearance aisle and for $15, I couldn't pass it up. Overall the quality of the set is very good. Manta's gun was slightly bent up and Aquaman's right leg was a little warped at the knee joint (easily fixed with a session under the hair dryer and cold water tap) but otherwise they are well made with no problems or defects.
Aquaman is… flamboyant… in his gold mail deco but I prefer my quickie custom version in the comparison pic. I'm just not a fan of the black trunks.
Black Manta?
The finish on Manta feels so weird, it's a soft rubbery texture. Very strange and disconcerting. I prefer the DCUC 2 Black Manta over this one but the UA Manta is kinda cool. Wish they hadn't painted on the belt, I think it would've looked better to just leave it off. Unfortunately Manta's fork was not included in the two-pack but I imagine one could be easily found considering how many customs are being made out of DCUC 2 Black Mantas.
Curse this EMPTY right hand!!!