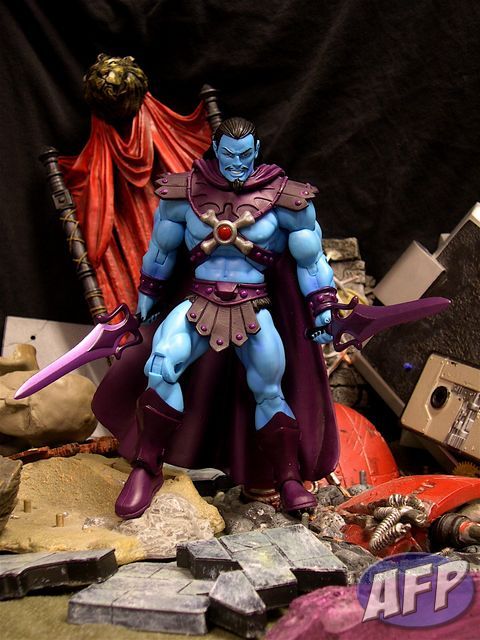 Today we're doing a very late pic review of the Masters of the Universe Classics Keldor. Yes, it took me a while to get to him, and everyone else has already posted their Keldor reviews, but no matter. Here we go!
I won't be going into great detail about him as he is pretty much a Skeletor body with a new head and cape, if you have any of the Skellys that have been released, you know what to expect as far as articulation and sculpt goes. I do have to say, for a figure pretty much made out of reused parts, I still had some fun with him.
His head sculpt is really well done – it's full of character. He looks smug and confident. I can't imagine he'd have the Skeletor voice he had in the cartoon though. Maybe that voice was from Demo Man!
I also had fun with the idea that he wielded double swords. I just wished they were full swords rather than half swords, or maybe that the part where the swords joined together didn't look so flat and unfinished!
The cape is a welcome addition as you can use it with Skeletor. Keldor still looks good without it!
I like that they used a different shade of blue from the Skeletor figure. It's a more saturated blue, like he had more life as Keldor.
This is a great way to reuse Skeletor's body. It's a good look at what he looked like before, making it a good figure to have in the collection. I've heard some people say they wished an alternate, melting face head sculpt had been included, similar to the original one, and I agree with this. It would've been interesting to see how the Horsemen would execute the sculpt. Also now that this figure had been made, I'm curious to see how Demo Man looks like, as Skeletor is a merger of the two.
Well that's it! Thanks for looking and I hope you all enjoyed the pics!