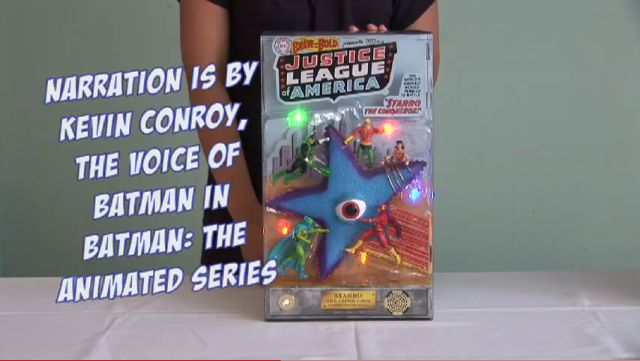 Two pretty awesome updates from Mattel on the MattyCollector site today. First up, a demo of the packaging for the JLA Presents Starro the Conqueror exclusive. I had heard that Kevin Conroy was providing the voiceovers here, but I didn't realize that there was going to be so much of it.
And second, for those of you attending San Diego Comic-Con, maybe the lines for exclusives won't be quite so bad this year. Mattel is offering pre-sales via MattyCollector on Tuesday, July 13, with pickup times next door to the San Diego Convention Center on Thursday – Saturday.
All the details from Mattel included below. First up, the Starro packaging:
NEW VIDEO! See the Awesome Packaging for Starro

JLU Fans,

One of the products getting HUGE pre-SDCC buzz is the new Starro the Conqueror pack. If you missed the description in our earlier coverage, here it is:

Justice League of America presents Starro the Conqueror

This special pack commemorates the 75th anniversary of DC Comics. The Starro pack re-creates one of the most famous DC comic book covers of all time, the cover of The Brave and the Bold Issue #28, the first appearance of the Justice League of America and Starro the Conqueror. Comes with all five JLA members featured on the cover as highly articulated figures in the same scale as Infinite Heroes™. Includes Martian Manhunter, The Flash (with added articulation), Wonder Woman (all-new), Green Lantern (with construct), Aquaman (all-new), and giant, bendy Starro. Of course, a 75th anniversary product deserves impressive packaging, so the box features lights and sounds with the voice of Kevin Conroy, TV's animated Batman, describing the characters and events seen on the cover!

Now, what you haven't seen is the ridiculous packaging. Our designers totally outdid themselves this time, but don't take my word for it – check out this video and see for yourself!

Okay, so how cool is that? If you want one for your very own, Starro will be available at SDCC with a special pack of Spores. If you're not going to SDCC, we'll have a limited quantity available for online purchase on August 2, 2010, only at MattyCollector.com (but without the spores) so be sure to mark your calendar! Want a reminder email? Click here to register.

— Matty
via MattyCollector.com Online Store.
Here's all the details regarding the pre-sale vouchers:
BIG NEWS! SDCC Voucher Pre-sale Announced

SDCC Fans,

The Matty team has answered the call of the fans… for the first time ever we're going to offer a limited number of products (and limited quantities) for pre-sale here on MattyCollector.com for pick up at SDCC! We're still finalizing the details, but here's basically how it'll work:

Be here at MattyCollector.com on Tuesday, 7/13 at 9 a.m. PT (noon ET).
Choose the items you want and add them to your cart. Purchase limit of 6 per person applies to all products.
Your credit card will be charged and a confirmation email (voucher) will be sent.
Bring your voucher, the credit card you used for the transaction, your identification, and your Comic-Con badge to Manchester Room 1 at the Marriott San Diego Hotel and Marina, which is just next door to (and connected to) the San Diego Convention Center.
Pick up your product on Thursday, Friday, or Saturday: 10 AM – 12 noon or 1:30 PM – 4:00 PM. All sales are final. There are NO REFUNDS so be sure to pick up your purchase(s).
If you are only attending Comic-Con on Sunday, this option is not available to you.
If you don't pick up your product by the end of the show on Saturday, your product will go into the products available for sale at the show on Sunday. You may be able to purchase it then, but there are no guarantees.
Products cannot be shipped. This option is for pick up at SDCC only, and only available to SDCC attendees (badges will be required).

Please note: there is a limited amount of each product available for pre-sale. It's first-come, first-served and there are no promises you'll be able to purchase a voucher for every product. But if you've successfully purchased a voucher, you're guaranteed to get your product – including SDCC-exclusive Starro spores, Plastic Man suitcase, and Orko® with color-change features!

Here are the products we'll have available for pre-sale. Individual product pages will be posted soon, but you can see images here in the meantime.

Masters of the Universe® Mo-Larr vs Skeletor® Figures
Masters of the Universe® Orko® Figure (with SDCC-exclusive color-change features)
Cars Toon Tokyo Mater
DC Universe Plastic Man Figure (with suitcase)
Justice League of America presents Starro the Conqueror (with Starro spores)
James Cameron's Avatar™ The Final Battle – Avatar Jake Sully vs Colonel Miles Quaritch Figures
Retro-Action™ The Real Ghostbusters™ Peter Venkman™ Figure
Toy Story 3 Disney/Pixar Collection Lotso Figure
World Wrestling Entertainment® Undertaker® Figure

If you miss this sale or the product you want is sold out for pre-sale, we'll still have these products available for purchase at SDCC subject to availability (see below). We'll have lots more at the show besides the ones listed above (to be announced soon), so be sure to stop by booth #2945 either way!

For those who can't attend the show, we'll also offer limited quantities of these products after the show here at MattyCollector.com on 8/2 at 9 a.m. PT (noon ET), although the SDCC-exclusive Starro Spores and Plastic Man suitcase won't be included, and Orko won't have color-change features. More details will come on this special sale as it gets closer.

We know you'll have lots of questions, but as I said, the team is still working out the logistics and I'll let you know the details as soon as I have them. Please post your questions here and I'll try to include the answers in my future posts.

— Matty