Howdy, AFP viewers!
I'm finally back from San Diego Comic-Con 2011, slowly recovering from jet-lag, and making an attempt to kick start my travel-addled brain to give you my picks for Best of SDCC 2011!
3) DC Universe Classics Wave 19 Hawkman has his hooded head as a Pack-In!
See it there, hiding behind Hawkman's mace?
I had completely missed this at the show, and it wasn't mentioned in either of the Mattel panels I was able to attend. It wasn't until I got home and a friend pointed it out that I saw it. I'm incredibly happy that Mattel decided to make this Hawkman with swappable heads, as I'm not a fan of the "full beaked" mask. This improves DCUC 19 a hundred-fold for me.
>> See more DC Universe Classics coverage
2) Not One but TWO Marvel Legends Extremis Iron Man figures coming from Hasbro!
Iron Man fans can now rejoice that we will be getting two versions of the Extremis suited Iron Man that has been at the top of so many wish lists since its debut in the Marvel funny books! The bright red and gold version will be included in the return of the Marvel Legends line, and the more muted version will be included in the Iron Man Armored Avenger line.
>> See more Marvel Legends coverage
1) Sideshow Collectibles Alien Egg Prop Replica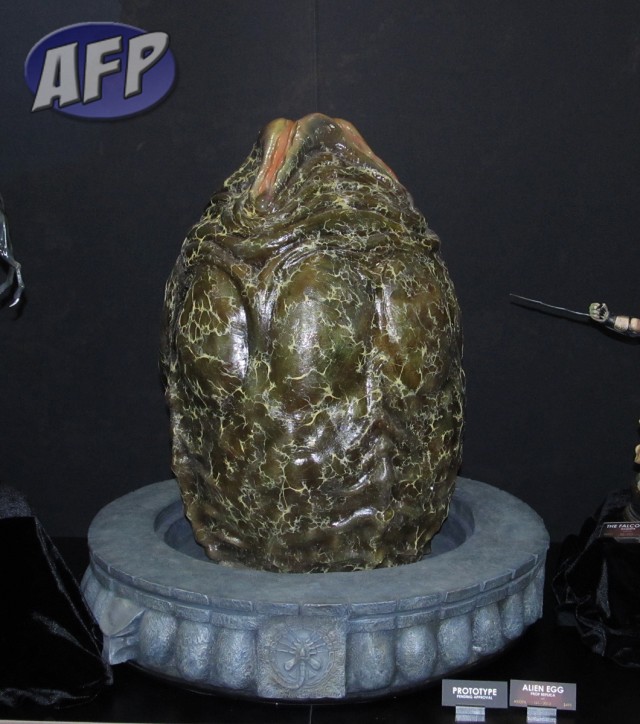 This life-size replica of the little face-hugger's egg had me and my buddy Steve giggling insanely. This looks to stand over 2 feet high, so you know it's going to be expensive.
The question that plagued us was, "Where would I put this in my house?" Steve snapped a pic with his iPhone and sent it to his wife with the attached message, "I'm buying this for the living room." Her reply scorched our eyes and is unsuitable for publication here.