A couple of days back, BigBadToyStore listed the second waves of Batman Unlimited and DC Unlimited, with estimated arrival in the 1st quarter of 2013. For Batman Unlimited, we're getting the garishly colored Planet X Batman (I guess "Zur-En-Arrh" isn't packaging friendly) and the Dark Knight Returns Batman. And in DC Unlimited, we're getting Batman from Injustice: Gods Among Us and Wonder Woman in her New 52 costume.
There's been a lot of flux in Mattel's DC collector-oriented retail offerings – here are the five key takeaways from these reveals:
1) Thank Grodd that the DC Universe Club Infinite Earths subscription went through, because Mattel's DC collector-oriented offerings at retail haven't been this limited since before Classics launched five years ago.
It wasn't that long ago that we were seeing waves of seven figures, with retailer exclusive waves and two packs – so we'll be suffering withdrawal going down to waves of four figures. The first waves of Batman and DC Unlimited had 3 figures each, but if retail has pushed that down to 2, Mattel DC is at the stage in the retail channel that Hasbro was at a few years back with their 2-pack offerings. It took a couple of lean years before Hasbro came back with a reinvigorated Legends re-launch, and we're probably just at the start with DC.
But Club Infinite Earths helps bridge that gap, even if collectors made the threshold for minimum production levels in the waning hours of the order period. DC fans – get used to the idea of subscribing, because it might be a while before retail becomes viable for a broader Classics program again.
2) DC Collectibles (formerly known as DC Direct) and Mattel will continue to offer competing products.
I really thought when DC Direct shuttered their New York office to move to LA that we'd see a little more coordination and cooperation with Mattel. But I suppose with the retail channel tightening up, it was a matter of time before Mattel would try to leverage characters and brands that have more timely media support – and that's a page out of DC Direct / DC Collectible's playbook. DCD was milked Blackest Night and Brightest Day for all it was worth, and now we're seeing both companies relying on New 52. DCD jumped on Arkham Asylum first, but Mattel followed – and now both have been on Arkham City. And while Mattel got the first drop on Injustice, I wouldn't be surprised if DC Collectibles has something in the works there too.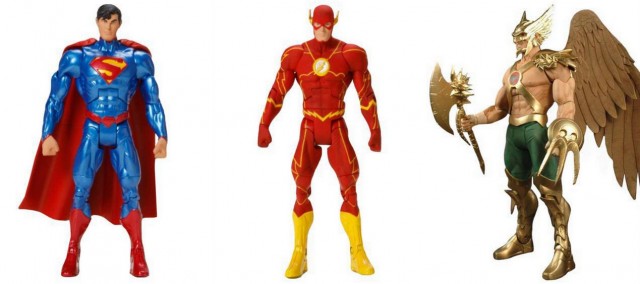 3) Mattel finally figured out that video gamers collect action figures.
Duh. McFarlane may be going through rough times, but there's no doubt that Halo has been one of the reasons they've been able to survive. And Square Enix has exploded into the action figure scene with the video game heavy Play Arts Kai lines.
Sure, Mattel has Arkham Asylum, Arkham City, and now Injustice, but how many other properties did they miss? How long was DC Universe Online in development? Surely long enough that Mattel might have been able to get some figures on pegs during the game's more popular days. And before Injustice, there was DC vs. Mortal Kombat. Seems like some missed opportunities.
4) Sharing of bucks across lines would open up more possibilities.
Mattel keeps insisting that they don't share bucks across lines, but that Dark Knight Returns Batman sure looks like it's built right on top of a Masters of the Universe Classics buck. There's a bunch of characters that would have benefited from the same treatment, like Doomsday, Lobo, Bane, Darkseid, and Lead, just to name a few.
I'm not sure what the big deal is, because the Four Horsemen work across MOTUC and DC, and there ought not to be any licensor issues for Masters – but Mattel has said that DKReturns Bats is all new, aside from the shoulders that the MOTUC team was kind enough to lend for this figure only. Shoulders? NO! Anything but shoulders – they'll only have themselves to blame when the reversed shoulders Batman makes it all the way through the production process…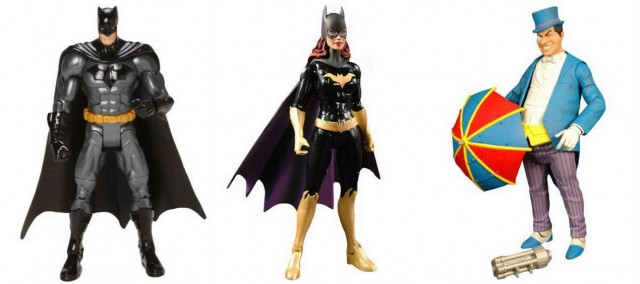 5) "Unlimited" means we can expect Mattel to pull from anything with timely media support – video games, animation, and comics –  but they'll still keep it to the A-listers.
With these four figures, we've got a pretty diverse sampling of source material:
Planet X Batman – Batman R.I.P. – sure, this comic was from 2008, but Morrison's run has been extremely popular.
TDKR Batman – Frank Miller's "The Dark Knight Returns" limited series comic was back from 1986, but with the 25th anniversary coming up, Warner Bros. has a two part animated movie coming out, with the first part coming out on DVD on September 25.
Injustice Batman – no firm release date has been set for this video game, but there will be plenty of buzz until the game launches some time (we hope) in 2013.
New 52 Wonder Woman – yeah, I guess one good thing did come out of New 52 – getting rid of that last awful costume redesign.
But – three Batman figures in a four figure wave? Mattel is going to keep it to the big DC names if it's going on retail shelves. With Dark Knight Rises, maybe Catwoman is now in that echelon – her character was just announced to be playable in Injustice. But Cyborg (who gets the double push from New 52 Justice League and Injustice)? Really tough call.
What will be really interesting is how this retail line-up plays in conjunction with Club Infinite Earths. If we start hearing of Injustice or New 52 versions of characters showing up in the sub, you'll know that things have gotten even worse for Mattel in the retail channel.