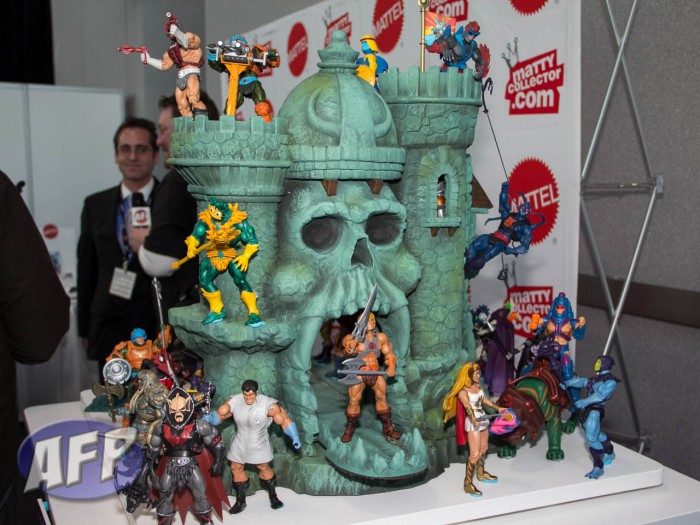 With the final pre-order window coming to a close on Monday, I'd like to take a pulse check on where you stand on Castle Grayskull – and no, that's not a flimsy attempt at escape ledge humor. Up until Toy Fair, we had seen drawings, foam mockups, and teasers – now that the first painted prototype has been shown, what's the verdict? Has seeing the Castle changed your mind one way or the other?
Let's start with our pics and video from the Mattel Toy Fair event:
I've seen a lot of comments about the Castle prototype being smaller than what was represented on the b-sheet. He-Man does look a little cramped in the jawbridge. With regards to the interor, the folks at he-man.org put together this comparison image showing how the thickness and offsetting of the floors (to allow the Castle to close) in combination with the reduced height makes for some tight fits: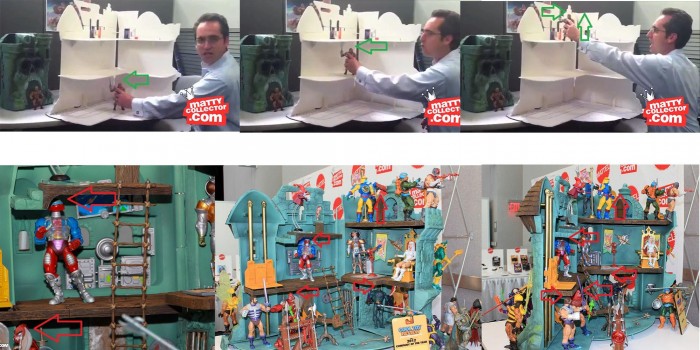 There's no doubt that the Castle will feature some impressive sculpting and paint work, if they can match what the work the Four Horsemen have done in their studio for the paint masters:
via Castle Grayskull.
Finally, Toy Guru has responded to the requests to make changes to the Castle in this thread at he-man.org. There's quite a bit of pre-amble, but the net is that while he wishes he could make the Castle bigger, there's four things they are actively looking at changing:
In the end, this is going to be an amazing peice [sic] and I hope will please the majority of fans. We are actively working on the following changes from what was shown at NYTF:

Adding a slot in the throne for the Sorceress' tail feathers.
Adding a slot/crack by the Jaw Bridge for the Power Sword (like in the mini comics)
Adding a key hole in the back door that fits Scareglow's key
Lowering the Jaw Bridge door into the base for a taller opening

Beyond that, their [sic] just is not time or resources to make changes. We 100% hear fans on many suggestions, but when we say "no we can't make that change" it is not meant as an insult, it is just letting fans/customers know that factually that change can't be made. If I gave the impression that the model shown in NY was going to change, then bad on me. But to be clear now, their [sic] won't be changes beyond what was shown and noted above. We hope everything shown in NY will be in the final toy, but their is always a chance things may change/get cut. If that does happen, we will be sure to let everyone know.
So there you have it – hopefully enough info on which to base your decision about Castle Grayskull, if you haven't already made up your mind. And the big question is:

If you have other thoughts about Castle Grayskull, be sure to leave a reply below. Thanks!