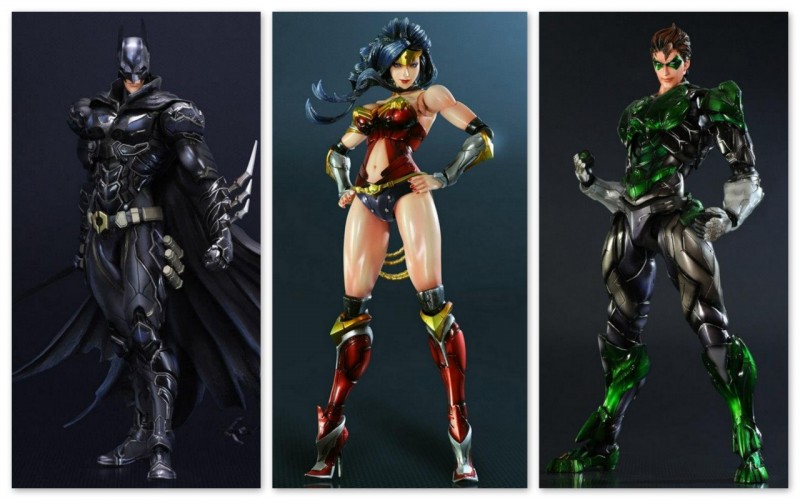 I had mixed feelings when I saw the variant DC Universe figures from the Square Enix Play Arts Kai line at Toy Fair. Now that Square Enix has released their press pics of the first three figures – Batman, Wonder Woman, and Green Lantern, my take hasn't changed. I'm mostly positive on their other DC offerings – the Arkham Asylum / City line has been fantastic, and I will probably be picking up the Dark Knight trilogy figures. The Superman: Man of Steel figures look interesting. But these DC variants will most likely be a cherry picking line for me.
I'm expecting that the articulation on these babies will be just as good as the other figures I've picked up, but I'm so-so on the designs. This is the kind of thing I worry about with 3A Toys and their highly-anticipated Marvel line. When you look at iconic characters through the lens of an artist with a distinctive style, there's a chance that what you see won't agree with you.
The designs for Batman and Green Lantern veer a bit too far into a hyper-anime style for my liking. I can understand an armored Batman, but gold-accented piping and a cape collar just don't fit. With GL, I can try to imagine that his suit is an armor construct, but his hair? Sorry, but I don't think Hal Jordan would gel his hair just like so.
Wonder Woman comes closest to hitting the mark for me. She retains most of the basic elements of her most iconic costume, and I can buy her bracelets being upgraded to full vambraces. Yeah, she's got the exposed belly button now, but that's not too far off from the one-piece bathing suit she normally wears.