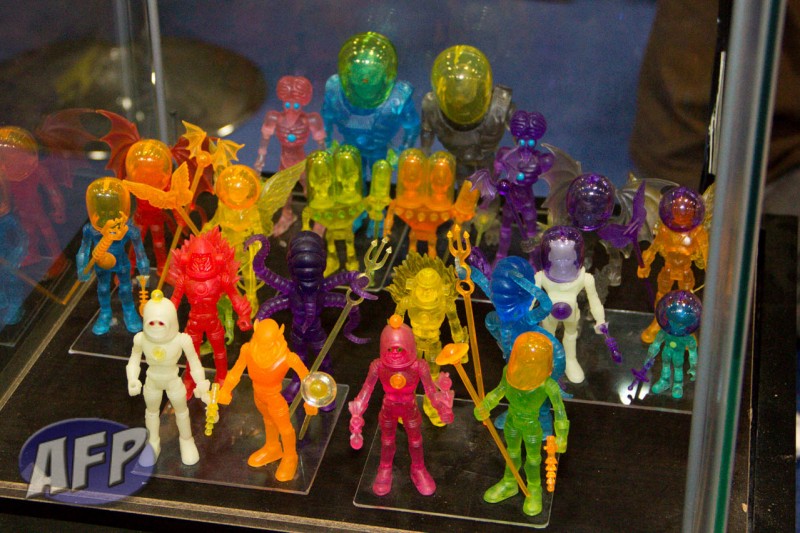 I had a quick look at the Four Horsemen Gothitropolis Ravens on Preview Night, but with this post, here's a closer look at the Ravens with my "real" camera, as well as the ongoing Outer Space Men and the upcoming Power Lords lines.
The Four Horsemen's Kickstarter campaign for the Gothitropolis Ravens continues to blow past its stretch goals, after reaching its initial funding goal before the first two days were up. Eric Treadaway told me that they were expecting a quick start but an equally quick leveling off – they're happily surprised that the campaign has gained more traction than they expected and continues to generate interest. Before it kicked off, he thought that they might not even reach the stretch goals for the campaign.
While it's still early in the campaign, the good news is that this may open up future Fantastic Exclusive offerings. It was tough for the Horsemen to have to sit on the crowd-designed line for as long as they did. Turns out that the development of crowd-funding matches up very well with the Fantastic Exclusive vision.
I asked Eric if Power Lords is a candidate for crowd-funding. In short, the answer is no. Both Power Lords and Outer Space Men are less complicated to produce compared to the Ravens, so expect Power Lords to have a similar distribution model to OSM. One comment that may need clarification – Power Lords may not have the same kind of variants, most notably the clear / translucent figures that have been released in OSM.
Power Lords will still have a few iterations before we see carded figures. At SDCC, they are selling test shots. At PowerCon or NYCC we'll could see a special release. A regular carded line would follow that, probably next year.
Any questions for the 4H? Let me know in the comments below. Thanks!