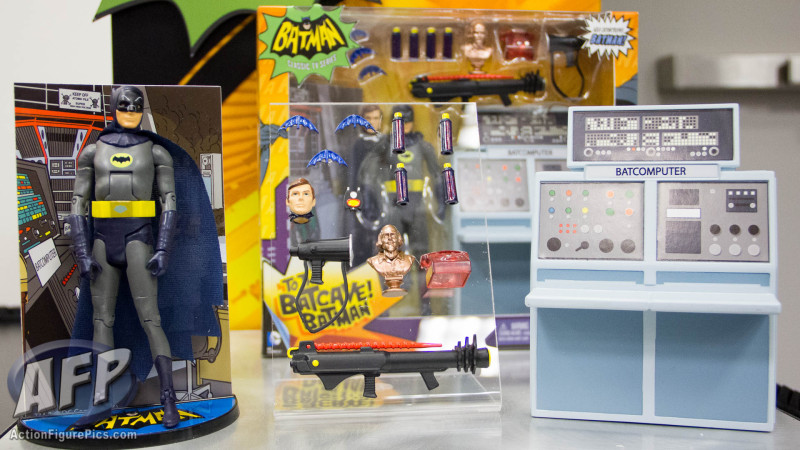 Remember watching the Adam West Batman show and ending up with a cliffhanger – only to miss the following episode? That's what it felt like waiting for news about Mattel's Batman 1966 line. A nostalgic favorite for many, the line hit some snags with sell-through and its fate was uncertain.
At least until this past weekend, when Mattel announced the Batman 1966 line would be returning to retail. And in a fitting twist, much of it would be reruns. The 6-inch figure assortment is returning with no new additions to the line-up. The one new 6-incher, the Yvonne Craig Batgirl, shows up in a 3-pack with Batman and Robin. Speaking of the Dynamic Duo, they return with the Batmobile. And Adam West gets a headsculpt in a new deluxe playset entitled "To the Batcave, Batman!"
The packaged Batmobile was a mockup using the existing retail Batmobile (see the added "Batman & Robin included" starburst attached next to the "sold separately" tag on the current box?), which you will probably be able to find at Toys R Us until the new and improved set shows up with the 2 figures included – maybe that will finally force TRU to clearance the old stock.
While the rehashed single carded figures, the new and improved Batmobile set, and the 3-pack are very friendly to people new to the line, it seems somewhat punitive to collectors who bought in before – in particular, many were just waiting for Batgirl, and now have to get an extra Batman and Robin.
The Batcave set, which was not marked with a suggested retail price, includes many iconic accessories that will help you recreate stately Wayne Manor and the Batcave underneath. I wonder if the bust of Shakespeare will feature a flip up head that reveals the switch that opens the sliding door to the Batpoles.
Want a closer look at the "To the Batcave, Batman!" playset? Here's our video fly-by: