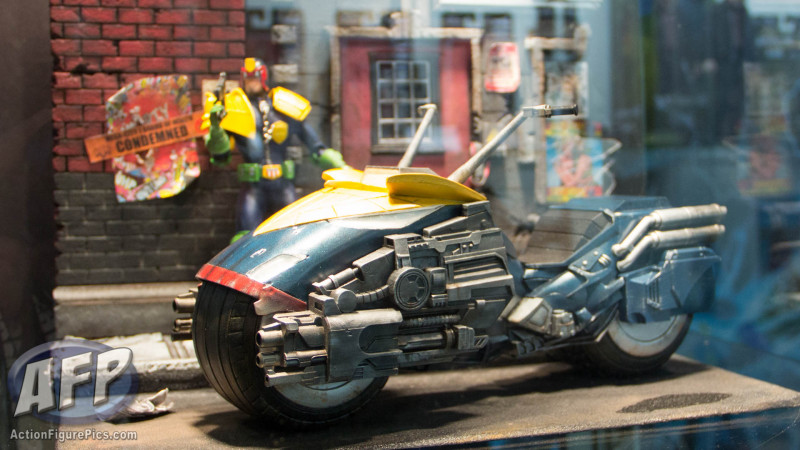 No offense to Living Dead Doll collectors, but when that was the bulk of what Mezco was making, it was a far cry from those heady days when Hellboy comic and movie figures were dominating my shelves. But with their recent license acquisitions, coupled with setting a new bar for mixed media action figures in the 6-inch scale, Mezco is back, baby!
Today I got a closer look at the One:12 scale Batman and Judge Dredd, the Mortal Kombat X figures, and some upcoming figures for Breaking Bad.
Mortal Kombat X
Mezco has licensed Mortal Kombat X, and is making figures in 6-inches (shown here) and 4-inches, and other assorted merchandise, like plush and keychains. It looks like their approach is to have parity across the lines – if they make one character in one scale, that same character shows up in the others.
One:12 Collective – Batman and Judge Dredd
While we've seen Batman and Dredd previously, Mezco has added the Mutant Leader from The Dark Knight Returns and Dredd's Lawmaster bike to the line, pushing the boundaries on what you might expect from a 6-inch line.
They had production samples of Batman on hand – the figures from their first production runs are on US soil, but like so many other manufacturers, their inventory is held up in US Customs due to the port workers' slowdown. The figure is some mighty sweet hand candy. It was somewhat surprising how much range of motion I was getting in the joints, considered that many of them are covered with fabric apps, which are very pliant, yet seemingly durable (I suppose time will tell on that.)
There's some blockiness in some of the joints due to the hyper-detailed sculpt attributable to the Frank Miller art aesthetic – this is most noticeable in the double-jointed elbows and knees, but it's a mild distraction at worst. What counts is that those points of articulation are completely functional. If there's anything I'd suggest, it's to find a way to sink the ball-jointed shoulders just a touch deeper into the torso.
These figures run on the pricey side, between $60 and $70 – but after getting some hands on, I have no regrets pre-ordering.
Breaking Bad
Better Call Saul is a critical hit, so Saul Goodman's Breaking Bad figure from Mezco is well-timed. I'm not an articulation junkie just for articulation's sake, but I really wouldn't mind if these 6-inch statues could turn their heads and swivel at the shoulders and waist. Still, I think Mezco is doing well with Breaking Bad and Sons of Anarchy with this model – I'd be surprised if they didn't pick up more TV licenses this year.