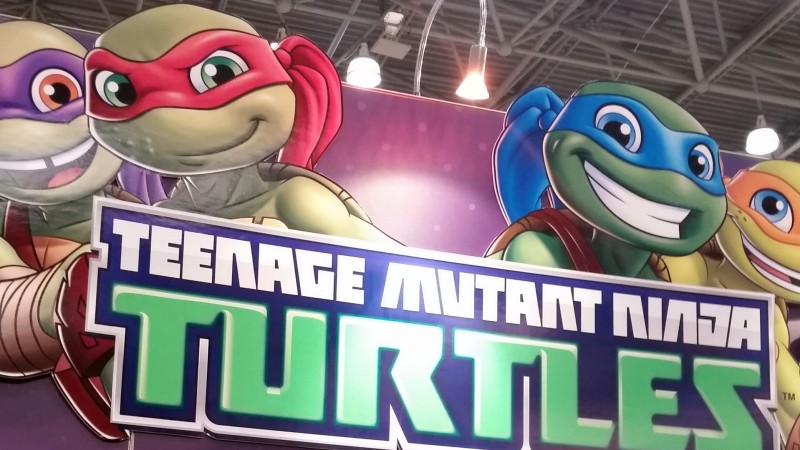 The good news is that Playmates' Teenage Mutant Ninja Turtles, buoyed by the success of the Nickelodeon animated series, had the number one SKU in boys' toys last year. That means a lot more basic and deluxe figures, as well as branching out into new expressions for the brand.
The bad news is that within the mix, the Classics line did not perform to expectations. So for those of you hoping to expand beyond the Turtles, Rocksteady and Bebop, with the Shredder and Krang figures shown in prototype previously, you are out of luck. Classics is on hiatus for now, but could be revisited as the sequel to the TMNT reboot hits screens in 2016.
[instapress tag="afpnytf2015tmnt" piccount="0″ size="150″ effect="fancybox"]
Yes, you'll be seeing repaints for a lot of the new basic and deluxe figures hitting in 2015. And one action feature that's seeing a lot of use is spring loaded heads – the turtles can retract their heads into their shells and pop them back out at opportune times. The primary drivers for the newest of the new is the Dimension X plotline in the animated show (aka Turtles in Spaaaaaaace!) and Mutations – this means Turtles changing into their weapons or baby turtles and vehicles changing into other vehicles. The mutations may sound silly, but they are actually pulled off in a pretty cool way, in particular with the vehicles.
The humongous Sewer Lair playset, which was once considered a risk back when Playmates relaunched the line, is getting a makeover, with new characters adorning the cardboard inserts and a Dimension X portal in the bowels of the lair.
We'll also be seeing more electronics with talking turtles, RC turtles, and the like, as well as plenty of role playing options. This year we'll also be seeing more wide-eyed, cute turtles to capture the hearts and minds of the kids younger than the average TMNT fan. In other words, it's a great time to be a younger TMNT fan – they're the ones supporting the line and they're getting the lion's share of the attention this year.