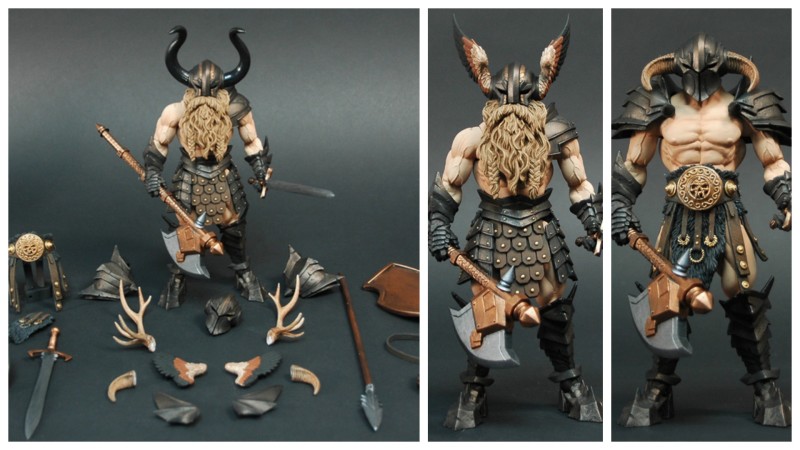 The Mythic Legions Kickstarter project is in its final day of funding – it's already surpassed the funding threshold and then all the stretch goals, so all planned figures and accessory packs will go into production. But that hasn't stopped the Four Horsemen from continuing to reveal new figures, accessories, and deco updates. With one day to go, here are the latest enticements they've shared:
Deluxe Barbarian army builder set – available as a $50 add-on, the barbarian includes a ton of interchangeable parts allowing you to give each one you add to your barbarian horde its own unique look
Fantastic Exclusive winner – the Blood Armor champ was designed for the fans, by the fans
Weapons Accessory Pack 4 – at $50, you'll be getting 10 war standards for your legions to carry into battle, and a bearded axe, just because
Tibius deco update – the Four Horsemen told me they were going to spruce the skeleton champ up a bit to distinguish him from the army builders – he gets war paint on his skull, a tattered cape, and some more paint apps on his armor – the hinged jaw is still a possibility, but isn't confirmed
Want to go All-In? – backing at $1,050 gets you all the figures and weapons packs, and it's an even better deal with all the stretch goals unlocked – note that stands are still a separate add-on
Today's the last day you can back the project. If you're unsure of what you want (I still don't know just how many skeletons and orcs I'm getting), I'd encourage you to at least back at any of the $30 pledge levels. From there you'll be able to access add-ons for about a month after the funding campaign closes tomorrow, via the BackerKit survey the Four Horsemen will send out shortly afterwards.