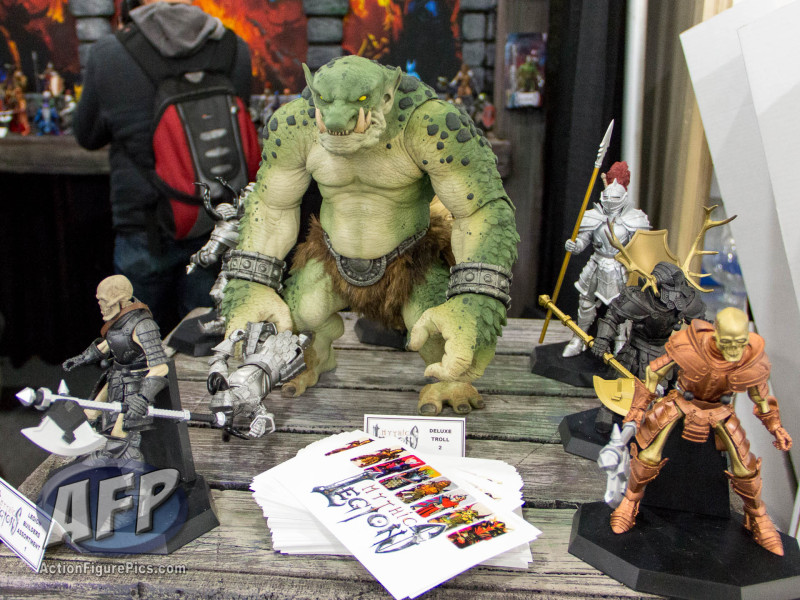 Seeing the Four Horsemen is one of my favorite stops at Toy Fair. It's always been great to talk about their work with Mattel on DC, Masters of the Universe Classics, and now Thundercats, but it's a special treat when they've got their own brands to show off. Their Toy Fair booth was predominantly about their Kickstarter Mythic Legions line, which after some delays is approaching the finish line. Most of what was on display were actual factory production figures.
And they've revealed that there's more to come!
A forest troll is joining the mix, with a new head and colorway on the stone troll's body. Both are going into production simultaneously, with an early June target for release (around Power Con) – if that seems fast, it's because the trolls are rotocast figures, which are easier to produce.
The Horsemen are planning a follow-on Kickstarter for Mythic Legions, of which they showed four new figures. The four shown (including the wart hog and translucent figure above) have new head sculpts and colorways, and will leverage the existing interchangeable body, armor, and accessory parts.
Another quartet of Mythic Legions figures will go up for pre-order with the two trolls today. These four are built off of new combinations of the mix and match parts and will feature new colorways. Sir Godfrey is a new champion, while Ilgarr and Pixxus are very cool Dwarven and Spartan skeletons. At Toy Fair, Unkann was still being considered to be a Power Con exclusive – he's an orc with Man-At-Arms deco – but he will be available to all.
The pre-order for all six new Mythic Legions 1.5 figures will be available on Store Horsemen at 3PM ET today. All pre-order items, including an All-In option for the six figures for $300, the Mythic Foursome for $125, the Troll 2-pack for $195, the figures individually for $32, and trolls individually for $100 are already pre-listed – so check them out and then pre-order!
The Mythic Legions 1.5 pre-order will be open at least until March 11, at which point quantities will be finalized and production will begin. The target release date for figures is early June, around Power Con.