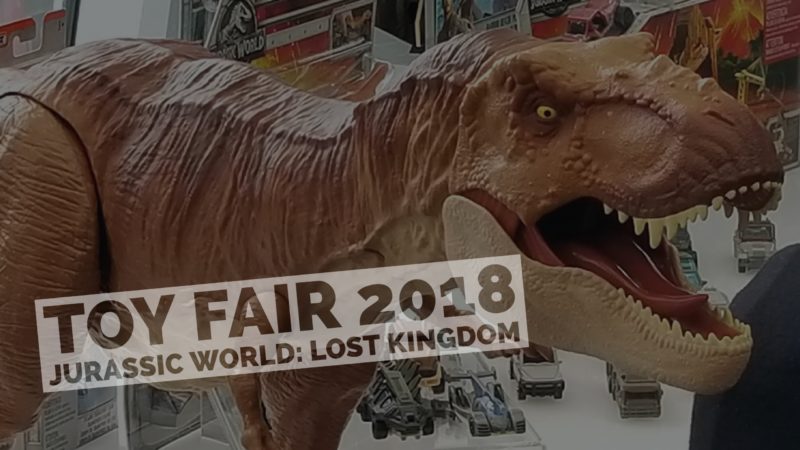 Make no mistake – Universal Studios Licensing is making the most of Jurassic World: Fallen Kingdom. The second movie in the Jurassic World trilogy (fifth in the Jurassic Park franchise) opens in June this year, and following the blockbuster success of 2015's Jurassic World, a plethora of licensees have signed on to deliver products for the sequel.
We're not just talking toys for kids here – Universal's media tour also included apparel and accessories, following the model they used for The Mummy last year. While that movie fizzled for them at the box office, Jurassic World seems like a sure thing.
Let's take a look at the toys!
Mattel is the largest of the Jurassic World toy licensees. Their dinosaur figures will span the Jurassic Park franchise, including perennial favorites like the Tyrannosaurus Rex (one large enough to swallow an unsuspecting human figure whole and then "poop" it out) and Velociraptors, dinos with signature moments like the Mosasaurus, and others that have had less screen time throughout the series.
Mattel will also have Imaginext toys for younger fans, Matchbox cars, and even Barbies of Chris Pratt's Owen Grady and Bryce Dallas Howard's Claire Dearing.
Funko and LEGO are also along for the Jurassic World ride. You didn't say the magic word? Dennis Nedry and the Dilophosaurus are an inspired Funko Pop 2-pack.
LEGO has shared plenty of details on their Fallen Kingdom sets, so we'll cover them in a separate post.
Do you want a Jurassic Park jeep or a Blue Velociraptor for your kids to ride? Universal has you covered. A flying Pterano-Drone? Ditto. Pez candy dispensers with dinosaur heads? You bet. Dinosaurs may be extinct, but their licensing opportunities are still going strong.