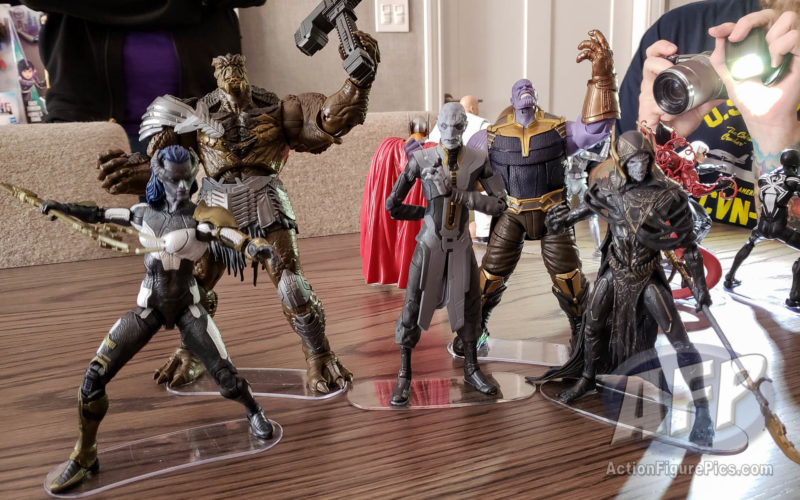 Hasbro kicked off New York Comic Con with their "deskside chat" with the Marvel brand team. Ryan Ting from marketing and Bobby Vala from design shared their latest reveals and plans for 2019.
I'll be brief, since I'm trying to actually get to the convention sometime today 😀 – but will update as I review the video of our conversation. The video should go up on our YouTube channel late tonight or tomorrow morning.
MCU Avengers Black Order
In case there was any doubt, Hasbro wants us to know that are not going to leave us hanging with just two out of four of the Black Order from Avengers: Infinity War. They delivered Proxima Midnight and Cull Obsidian earlier this year; Proxima Midnight was in the first Avengers wave (with Thanos BAF), and Cull Obsidian was the BAF for the second wave.
Both Ebony Maw and Corvus Glaive are new fully-tooled figures, and appropriately over-sized compared to their human adversaries. The detailing on the sculpts is impressive.
Hasbro did not provide details for how these will be delivered, but if production allows, I think these will ship in the second quarter, ahead of the release of Avengers 4 in theaters. They chose to display the Black Order with an Iron Man and the Thanos from the MCU 10 3-pack, but I think we may see one of them as a single-carded figure and the other as the BAF for an Avengers wave in the second quarter. But we'll have to stay tuned.
Spider-Man
The Kingpin BAF wave should be the first to hit shelves in 2019. Hasbro first revealed Kingpin, Black Cat, Silver Sable, Red Goblin, and Spidey at SDCC. These are production samples, and I think this the first I've seen of the alternate Wilson Fisk head in person. There are two or three more reveals still to come for this wave.
Ultimate Riders
We also saw Deadpool and Professor X from the Ultimate Riders line at SDCC, but Hasbro pulled out a few surprises. Both will hit shelves in the first quarter, and come with alternate head pack-ins – for other figures you may have in your collection.
I've been whining for a Bob, Agent of Hydra, for a long time – his head, which will fit on the previously released Hydra agents, will come with his best bud Deadpool. He'll also come with a sticker pack for customizing your Deadpool scooter.
Professor X will come with a Shadow King head, which will fit onto the upcoming Kingpin BAF. We didn't see the Cerebro effects at SDCC – it's removable. And we also got a good look at the hover chair – the stand can be removed, and the armrests slide open to reveal some control panels. I plan on loosening the leg joints on Xavier so he can't stand on his own.
Captain Marvel
Although no figures on hand, Hasbro confirmed that the four Captain Marvel figures that were recently up for pre-order are due out in first quarter. That's the MCU figures for Captain Marvel, young Nick Fury, and the Kree and Skrull characters from the movie. The Kree Sentry is the BAF for that wave.
They also shared that Living Laser and Nighthawk, who were revealed with the Kree Sentry, are part of a different wave. I'm guessing they may be part of an Avengers wave due in 2Q.
X-Men
Hasbro revealed Caliban as the BAF for the first X-Men wave for 2019, due out in second quarter. Forge will be one of the single-carded figures in the wave, joining the Reaver Skullbuster, Blink, and Gambit, the three X-characters revealed at SDCC. Hasbro said there were three more figures to be revealed for this wave.
That means that Wendigo (BAF) and Guardian, revealed at Fan Expo Canada, are due out in a second X-wave, likely in the Fall. I can't recall which wave will have the Weapon X figure.
Two-Packs
Hasbro revealed two new 2-packs. The first is a new Hydra 2-pack, featuring Arnim Zola and Hydra Cap from the controversial Secret Empire event. Zola features a new deco, new chest insert, and a new head. Cap looks like a new sculpt.
This two pack is up for pre-order at Entertainment Earth (https://afpics.link/2pCitpG).
The second 2-pack features Kraven and Spidey from Kraven's last hunt. Kraven has a new head sculpt and belt. The black suit Spidey will have an alternate beat-up Peter Parker head.
Beta Ray Bill
Last but not least, Hasbro revealed a new Beta Ray Bill figure. This is another huge want for me – I have a customized BRB using old Toy Biz parts in my display, and I will happily replace that figure with this new one. Bill has a hinged jaw – Bobby said they couldn't give him a hinged jaw in the 4-inch line and not do it here.
We asked, but Hasbro wouldn't give up where and when this worthy figure will be released.
That's it for the deskside chat – Hasbro will have some reveals (packaged figures for some of the ones revealed here) on the Marvel livestream for NYCC, and then they'll be on a whirlwind European tour later this month. They've promised multiple reveals for each of the three conventions in Europe.
Until then, Excelsior! Oh – and stay tuned for the video from the chat!