Here's the latest round of Q&A with Mattel. Thanks again to Toy Guru!
1. San Diego Comic Con is coming up soon. Have you figured out how many of the 30-inch Anti Monitors you'll have available for the raffle? You've mentioned that these are being hand-made. I'm sure folks would love if you'd describe the process (what are the steps, who's involved, etc.) – if you could include some pictures of the work in process, that'd be great!
Right now the plan is to have at least one of these figures per day to raffle at SDCC with Anti-Monitor points (available on the back of all Infinite Heroes figures). We'll look at posting some images of the "work in progress" on MattyCollector.com in the near future!
2. The selection of the Wonder Twins and the big Super Powers influence on DC Universe Classics has many people wondering about what sources you might pull from for the retail line. For example, what's the thinking on the possibility of more Super Friends, like Apache Chief, who weren't comic book-based – would that kind of character selection be possible for the mass market, or is that more in line with Mattycollector.com 2-packs, or is it somewhere in-between?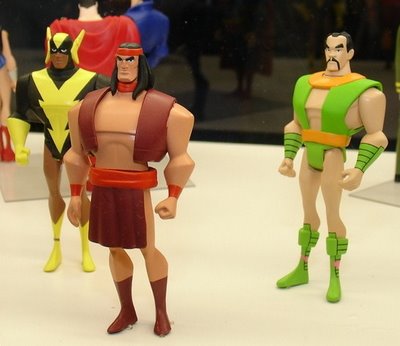 A lot of the Super Powers characters have high mass appeal and we are doing an upcoming JLU pack with Apache Chief, Black Vulcan and Samurai. It is possible we will do more packs like this in different lines in the future. We do know collectors love these Super Powers characters and we do too!
3. Now that you're getting deeper into the Masters of the Universe roster, with lots of the big-hitters released or announced, how does the team go about picking who'll be coming up down the road? And seriously, what do I need to do to make sure Jitsu gets in the line-up? Do I need to start a Facebook group called No Jitsu, No Jacksons? 😉
We always take fan demand for specific characters into consideration as we're planning the line. We will get to Jitsu in time, he is an important character with a big following!
4. The Stay-Puft Marshmallow man is one of the big (no pun intended) characters in Ghostbusters. Is something that big out of the question for the line, or could he be a Collect and Connect, or maybe a raffle item for next year?
We are looking at ways of doing Stay Puff extra large and in a way all fans can get him.
5. All right – here goes our latest attempt at fulfilling the ActionFigurePics.com mission to show pictures with each post – how about some more pictures of any of the upcoming SDCC exclusives?
There will be some new images in an upcoming issue of Toy Fare magazine showing off the different variants of He-Ro as well as the back of his cape!
Well, we tried!
Here's a round-up of the other Ask Matty sessions from around the web. (Links to be added as they come up.)
Poe Ghostal's Points of Articulation
DC Hall of Justice