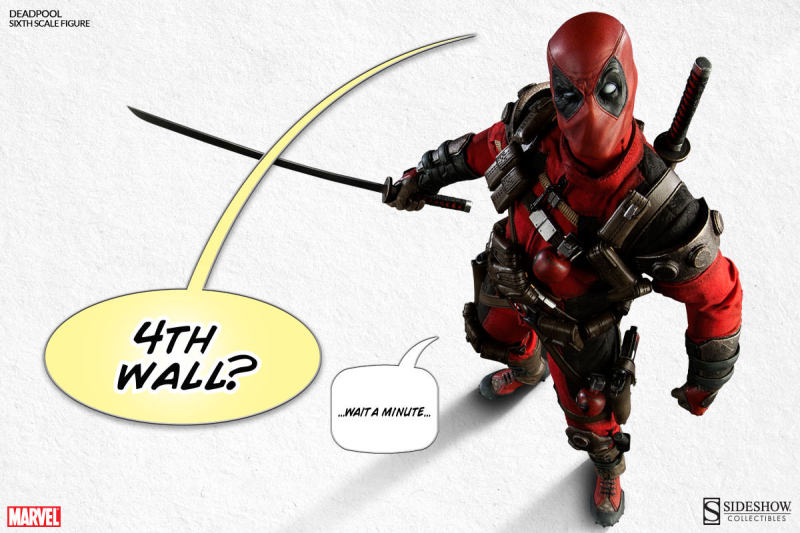 One of the highlights from this year's San Diego Comic-Con was the revelation that Sideshow Collectibles had acquired the license for comics-based Marvel figures in 1/6 scale. This is the first time in a long time that one toy company has been able to produce figures from the big two from the comics – sure, Hot Toys, of whom I'm a big fan, has had Marvel and DC for a long time, but that's the movie stuff. I'm psyched for some compatible, universe-crossing comic book action.
And they're starting with one of my favorites from the Marvel U – Deadpool. The Merc with a Mouth comes with all the accouterments that you're accustomed to if you're a fan of Sideshow's DC, G.I. JOE, or Star Wars figures – the great sculpt, nicely detailed fabric apps, and weapons and accessories up the ying yang. But they've given Wade Wilson a little extra, given his penchant for cracking wise – Deadpool speech bubbles that you can add to your display via the included stand. The Sideshow exclusive version of Deadpool will also include Headpool, who will use his copter helmet to fly by Deadpool's side (presumably using the same wires that support the speech bubbles).
Now it's fighty time!
» There's more… click to continue reading Weekend Toy Run: Sideshow Collectibles 1/6 Scale Deadpool