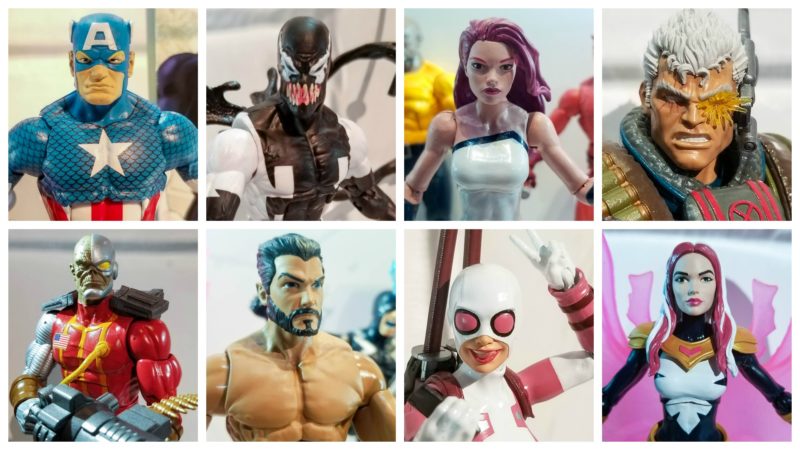 Finally, here's our Marvel Legends Report for SDCC 2017 – all the reveals, videos, booth pics, official PR pics, and teases – all in one spot. And while Hasbro showed off a massive amount of new figures and more for the remainder of this year and the start of next, there's still a lot more to go. Of the new waves, they revealed only one completely.
Hasbro Marvel Team Interview
We talked to the Hasbro team at the start of the show, so this interview covers the show exclusives and the first reveals for the line: Marvel Vintage Legends, Ultimate Riders, and the initial figures shown for the Deadpool and Spidey waves.
Marvel Vintage Legends
Hasbro went right for the feels with its Marvel Vintage Legends wave, due to hit shelves shortly. Hearkening back to the early '90s, the Vintage Legends packaging channels that of the Marvel Super Heroes line of toys by Toy Biz. That line of 5-inch figures ran for 3 years, but served as the spiritual progenitor of a decade of toys before Toy Biz launched their first 6-inch Legends.
But make no mistake – these are still Legends in 6-inch scale with all the sculpt and articulation we know and love. And while we're getting some re-issues here, most feature deco changes and some have new parts. For example, Punisher has got trigger fingers this time, and Iron Man's lower legs were changed to improve the articulation.
With the first reveals, we asked Hasbro if they were going to stick to the Toy Biz line-ups, as some other throwback toy lines have sought to do. They said they'd be branching out, and the complete first wave shows it. Captain America, Spider-Man, Punisher, and Iron Man were all in the first two waves of Marvel Super Heroes. However, Wolverine and Black Widow were never in the line.
Spider-Man Marvel Legends
Spidey's first Legends wave should arrive near the start of 2018. Since we're between his appearances in Spider-Man: Homecoming and Avengers: Infinity War, the full wave will most likely rely on Hasbro's go-to sources of inspiration for non-movie lineups. Spider-Verse? Spider-Punk – check. Symbiote? Lasher – check. Classic villains? Mysterio and Lizard (the build-a-figure) – check.
I thought Gwenpool might be destined for the Deadpool Legends wave (see below), since she was originally Gwen Stacy re-imagined as Deadpool for a series of comic book covers honoring Spider-Gwen. And even though her new comic book series has established that she is not Gwen Stacy, she's an adorable part of this Spidey wave, complete with katanas, cell phone, and penguin backpack.
Hasbro pointed out that a lot of this wave features new sculpts. Mysterio and Lizard are both all new. Hasbro's even put some additional thought into Lizard's articulation, so he'll have good head movement while standing either straight up or hunched over.
Since this is a BAF wave, Hasbro still has to reveal at least two more carded figures to complete it.
Deadpool Marvel Legends
When Fox released the first Deadpool movie back in 2016, Hasbro was not willing to go all-in behind it. They released one Deadpool figure in the X-Men themed Juggernaut wave. With that movie's success and the sequel due out for a blockbuster release in summer of 2018, Hasbro's got a wave of Deadpool Legends set to ride some coattails in the spring.
The wave includes three characters from the sequel. Deadpool and Cable get their costumes from the '90s. Domino gets her modern look. Just don't get your hopes up for movie costumes. I asked if that was a licensing issue. It's not; Hasbro has the rights to the Fox characters. But I suspect the frosty relationship between Marvel Studios and Fox will still mean that Hasbro will mine the deep recesses of the comics before making figures for Fox movies – no matter how big of a hit they are.
The rest of the wave may be filled with characters with loose connections to Deadpool, like Deathlok and X-23. Deathlok and Deadpool teamed up during Rick Remender's outstanding run on Uncanny X-Force. And while X-23 was on the X-Force team that preceded Deadpool's, they did meet up in the distant future, during the Cable and X-Force Messiah War crossover.
There was some speculation that this Deadpool wave would take the place of an X-Men wave in 2018. Hasbro assured us that we would still be getting an X-Men wave later in the year. They also teased the BAF – Apocalypse.
Marvel Legends Ultimate Riders
With Ultimate Riders, Hasbro has looked to Toy Biz for inspiration. They're pairing an action figure with his or her ride. Toy Biz did this in its Legendary Riders wave in 2005. The big difference is that Ultimate Riders has a target price of $39.99 – about twice the going rate for a Legends figure. At the time, Legendary Riders were priced the same as other Marvel Legends figures.
However, while the Toy Biz rides were glorified accessories, Hasbro does seem to be investing more in tooling for the rides. Both cycles feature independent suspensions. Black Widow's bike is scaled so that male characters can ride it too. And the skull shield and flame effects on the Hell Cycle can be removed for a cleaner looking bike.
For figures, Hasbro can leverage their tooling library to give us a new or redecoed character with less new tooling investment. In this case, Black Widow has a new head and overlays for her wrists, and Ghost Rider is a redeco of the one that shipped in 2015 (without a cycle) in the Rhino wave. I believe we'll see two more figures and rides announced for this wave. For the rides, don't expect anything much bigger than these motorcycles. I think that means Hawkeye's Sky-Cycle is possible, but Punisher's War Van is not.
Black Panther Marvel Legends
With the Black Panther's movie release date being in February, we're expecting this wave of Legends to be on shelves near the start of the year. The Hasbro team was not prepared to reveal the movie figures that are coming, so instead we were presented with two characters who are kings like Black Panther is of Wakanda.
Namor had a Walgreens exclusive in 2016, but it was a modern, black-suited version. In this wave, Namor will wear his iconic green Speedos and not much else – and the scales on his trunks are sculpted! He was shown in the Hasbro panel with a clean-shaven look, but had an alternate bearded head in the display booth. Black Bolt is a reissue of the one that shipped with the SDCC exclusive Thanos Imperative box set in 2014, with a new screaming head.
Hasbro is also releasing a 12-inch Black Panther in the spring. They had planned on showing it off in the Hasbro booth, but apparently Jesse Falcon forgot to bring it with him after he revealed the figure at D23. We'll take his word for it that's awesome (and not on eBay)!
Avengers Marvel Legends – Fan Vote Winner
We first saw a Marvel Legends Songbird during SDCC 2013. But that year saw a few revealed figures get deep-sixed as Hasbro decided to rebrand Legends to align with the Marvel Cinematic Universe. But fans would not be denied – last year they chose Songbird as the winner of the Marvel Legends Fan Vote. She's seen a complete redesign since her 2013 prototype, and Hasbro says that she'll have the biggest power effect they've made yet.
With Avengers: Infinity War due out in May next year, we expect to see a lot more reveals for this Avengers wave soon.
Marvel Legends Retailer Exclusives – 6-Inch
In a testament to the strength of the brand, we're seeing more exclusive partners coming on board.
Gamestop gets a Deadpool Back in Black exclusive featuring the Venom symbiote. This is due out before the end of the year.
Amazon gets a comics-based version of the Netflix Defenders, with Jessica Jones as Jewel, Luke Cage (reissue with slight deco change of the 2013 Thunderbolts Cage), Iron Fist (shirtless redeco of the 2016 Iron Fist from the Dormammu wave), and Daredevil (reissue with slight deco change of the 2015 DD from the Hobgoblin wave). This is ue out before the end of the year.
ToysRUs gets a Hail Hydra! 2-pack. Hasbro says that we'll get multiple heads and parts that will let you customize as you army-build. The smaller Hydra goon looks like a reissue of the one that came out in the Mandroid wave in 2014. The big one looks like mix and match repainted parts, including a Captain Britain helmeted head and a Nuke vest, among others.
And Walgreens has signed on for more exclusives. After the Human Torch, we'll get his girlfriend, Medusa. Or is she Black Bolt's wife? I guess that's up to you. She's a redeco of the Thanos Imperative Medusa, but Hasbro swapped out her high heels for flats. Mr. Fantastic follows her. He'll have interchangeable arms in stretchy and regular looks.
And if all goes according to plan, Thing will follow him. I asked if we'd be getting Thing in shorts or in pants. Hasbro told me they had both made, decided on one of them, and then changed their minds! Torture! (I'm hoping for Thing in long pants.)
Marvel Legends 12-Inch
A few people told me they're seeing Thor and Hulk hitting shelves now. Apparently Hulk is a bit more pricey than the regular $50 to make up for his extra bulk.
Wolverine is the next character in the 12-inch line, and he looks to be properly shorter than the others. He's got hands with and without claws, and three interchangeable heads. In addition to an unmasked head, he's also got a battle-damaged mask, with battle-damaged shoulder pads to match it.
Some people are wondering if he's missing one of his tiger stripes. It's there, but obscured by the ab joint. Hasbro will probably have to adjust the paint so that the last tiger stripe is more visible.
Deadpool gets two more releases in the 12-inch line. The black and red Weapon X version joins Wolverine in the main line. Toys R Us gets the Uncanny X-Force version as an exclusive.
Deadpool Extras
To wrap up, Hasbro really wanted ensure they were getting the most out of Deadpool in 2018. To that end, they've made a 16+ version of Monopoly with 6 new tokens and all new properties. Instead of hitting the Community Chest, you get to dig through Deadpool's pouches. One thing hasn't changed though – you can still go straight to jail.
Deadpool also gets a pair of Nerf Rival blasters that will be exclusive to Best Buy and GameStop. These aren't your mom and dad's foam dart guns – the Nerf Rivals shoot foam balls at speeds up to 70 miles per hour.
Hasbro Marvel Panel Video
This year, we shot the Marvel panel in 180-degree video, so you could see the panelists, the screen, and the people asking the questions in one shot. You can also zoom in and scroll for different views throughout.
The video includes a few teases: three more Legends figures at 32:50, Thanos with the Infinity Gauntlet at 33:03, and an Apocalypse Build-a-Figure at 35:30.
Finally, here's some more shots from the Hasbro booth. Enjoy!