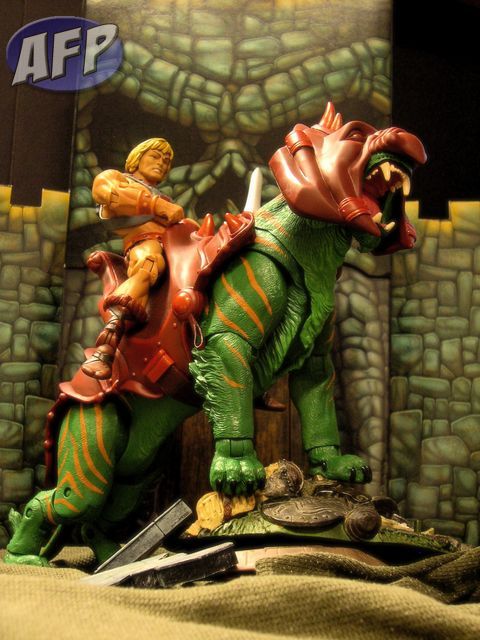 Mattel's Masters of the Universe Classics keep cranking out some awesome figures, and today we're taking a look at one of the most anticipated Masters of the Universe figures of the year – Battle Cat! Ordering issues aside (more on that later), this release is one of the best, if not the best, figures in the line! The first "giant beast" of the line, Battle Cat is about 12 inches long from head to tail and he stands about 5 inches from his paws to the highest point in his back. He's a pretty good sized figure and worth the money paid ($30) if you're a fan of Masters of the Universe toyline.
Battle Cat's packaging is very nice. I'm not a mint on card collector, so I pretty much trash the packaging after I open them. But damn, that packaging looks so good that I may have to keep it! The white shipper boxes they've been using also adds a nice touch, perfect for storing it away to avoid any damage to the packaging.
Sculpting-wise, the pictures do the talking!  Cringer and the Battle Cat armor are both excellent sculpts!  Cringer carries a scowling face (not the 'fraidy cat face he has in the cartoons) on his head, and his whole body is covered with some fur detailing. The paints on him are all crisp; his armor has metallic colors in certain sections (like the horns and studs), a nice little detail. The armor fits very well on his body and his head, there are no issues whatsoever in putting the armor on and off.
He also has excellent articulation, with ball-jointed head, shoulders, hips (with some limited inward/outward movement) and tail. He's got up/down neck and torso (this part also swivels around) movement. His limbs are also well articulated: the front legs have ball-jointed elbows and wrists and the back legs have 2 hinge joints and ball jointed paws that mimics the cat anatomy pretty well. Oh, and he has a hinged mouth that opens and closes.
You can get some interesting poses out of Battle Cat. He looks great in a neutral standing pose, and you can get some pretty good feline poses out of him. With some assistance (from any stand) you can stand him on his hind legs and get a great attack pose out of him. Check out the pics to see how many different poses I got out of him!
What an awesome figure! I was so excited when they announced him because I never had a Battle Cat figure as a kid (I wanted one bad though!) Now, pretty much we all know what happened that morning of February 16th. Myself, I had Battle Cat and Trapjaw in my cart, was about to pay when they disappeared and was told they were sold out. There were many similar experiences by others concerning the reissue Man at Arms and the shipping coupon, and many did not get their figures in a similar fashion. Imagine the disappointment I felt!
A week later, my order was resolved by Digital River (after a couple of phone calls and emails) and I finally got my toys. I have to say that was a pretty upsetting experience (if you're a big fan you'll understand!), and I really hope that Mattel and Digital River fixes all the glitches that the website has. It would be a shame if this great line lost supporters due to awful buying experiences! The good news is that they are reissuing Battle Cat and Trapjaw in the fall (no set date yet), so the people who lost out can still have a chance to own these awesome figures! I have to say though if you don't have Battle Cat yet, it'll be worth the wait.