Chinese_Chicken was lucky enough to attend 3A Toys' Beijing Gathering from a couple weekends ago. He was kind enough to provide a few pictures and a write-up on the exclusives that were available. I'm don't know what I'm more jealous of – that he was able to go to the show in person, or that he has these awesome exclusives in hand!
Opening Day Exclusives
WWRp Gebi de Plume, Hatchery Guard TK and Invitation TK
These were available on the opening night of the show. Essentially only those who had RSVP-ed their attendance prior to the show were allowed to purchase these. Gebi came carded much like the 3AA membership Nom de Plume, while the Hatchery Guard TK came with dual cleavers and a severed bot head. The invitation TK was a gift for all those who had RSVP-ed and is pretty much a Hatchery Guard TK without the bot head.
DIY Kitty
Standing just under 3 inches tall, this DIY piece was given away free as door gifts for all who attended the opening night. It came in a white header card and baggy.
Hatchery Guard Large Martin (not pictured)
These were sold on the morning of the 1st day and were limited to 25 pieces. Huge!
Day 2 Exclusives
Adventure Kartel Adventure Saturday 4 pack – Tommy Mission, Missionary Zomb, Shadow Zombot, and Blanc Shadow (pictured)
Badbot
Surprise release: Cupcake TQ
The AK 4-pack was limited to about 100 sets, while Badbot was around 120. During the artist signing session Ash decided to drop the TQs. They were limited to only 15 and were snapped up in a jiffy.
Day 3 Exclusives
Kuan Ti Plume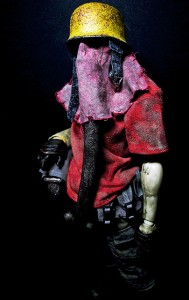 This one caused the mother of all queues. The line for Kuan Ti started formed at around 9pm the previous night and by 10am the next day it had grown to about 120 strong. Unfortunately only 90 were sold.
Hope that lil bit of info helps!
Cheers,
Dan