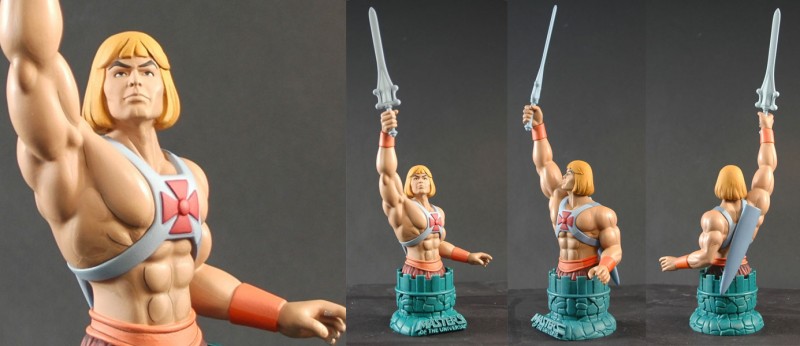 Icon Heroes has really been on a tear in recent days. Their Castle Grayskull Polystone Environment is coming out this month, and they've just announced another Masters of the Universe item – the He-Man Mini-Bust Paperweight.
Keep your papers safe from Eternian winds with the Icon Heroes Masters of the Universe He-Man Mini Bust Paperweight! Based on the 1980's Filmation television series, He-Man wields his power sword atop a Castle Grayskull tower base defying evil. Designed and sculpted by Joe Amaro and the Four Horsemen, this complete piece comes with sheath and Master of the Universe logo. Cast in high quality polystone, the He-Man Mini Bust Paperweight stands approximately 12 inches tall from the bottom of the base to the tip of the Power Sword. This makes a great addition to any desktop or Masters of the Universe collection. Available September 2013. SRP $60.
We were lucky enough to chat with Nate Baersch, designer of the Icon Heroes Castle Grayskull a couple days ago, and it's a special treat for us to chat today with Joe Amaro, who designed and sculpted this mini-bust in collaboration with the Four Horsemen. Joe is noted in the collectibles community for his MOTU-inspired creations, like his Manta Raider collaboration with Rudy Obrero. His professional credentials include a stint at Jazwares. Joe was gracious enough to answer our questions about the mini-bust and some of his other projects.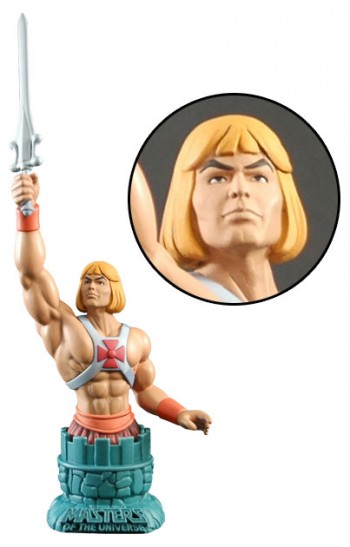 AFP: We're big fans of the Masters of the Universe inspired items that you've made in the past. What was it like working on an "official" Masters product, and such an iconic one at that?
Joe: Thank you! I have been a life long fan so working on MOTU has been a dream come true!
We see that you're credited with the Four Horsemen on the design of the He-Man Mini-Bust. Have you worked with them in the past? What was the collaboration like on this project?
It has been a huge honor to work with the Four Horsemen!
I have been working with the Four Horsemen for several years now. Because I am a huge fan and collector of their work the pressure is always high because I want to live up to their standards! It is always a team effort, I only work on certain parts or take it to a certain stage and then they take it to the next level. They are 100% involved in everything that comes out of the studio.
On this project it was more about them tweaking the sculpt and making sure it was more on character. No one knows MOTU better than them!
The moment of He-Man's transformation is indelibly etched in the minds of so many fans. What did you use for reference? Did you just watch a lot of the Filmation cartoons?
I used everything I could find and Icon Heroes provided some reference. But like you said, I have that image engraved in my head so that made it easier. I have watched the Filmation cartoons countless times so that definitely helped as well.
If folks are interested in some of your past Masters-inspired items, are they still available? What's the best way to get them now?
They are not available anymore. Those were just fun fan projects I did. I made them in my little studio by hand so they were very limited.
What's next in the pipeline for you?
I have several sculpts that I am working on now right now, like another Penguin for Blind Mouse Toys. You've seen the Judge Dredd and Stargate ones. Some of others sculpts I hope to see at SDCC!
This summer my buddy Gino Ybarra and I will be giving some workshops on sculpting at a comic book store in my home town called Daxie Boys Toys. That should be a lot of fun! Gino is getting me into making latex masks, you know like the Halloween kind. So maybe my next fan project will be a Halloween mask?!
Joe, thanks very much for your time today!