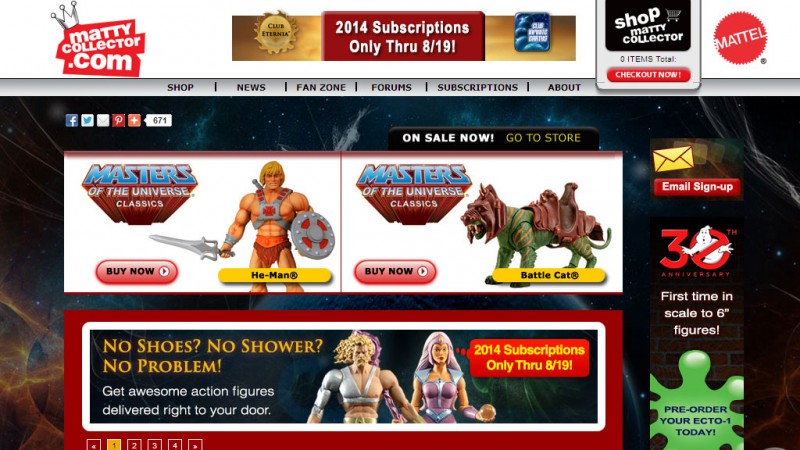 Get ready for a little rant – I just had another bad Mattycollector experience. This past Friday was Early Access. Normally it's no big deal, offering the figures we've already subscribed for and customer service stock on a couple of other figures. But this time it was for some of Mattel's San Diego Comic-Con exclusives.
Hurray for subscribing, right? Nope – leave it to Digital River to make it painful.
Lucky for me, I missed the 8AM start time, because those that did were treated to glitches in the Mattycollector store. Items became sold out and then available again, and more than a few people had to put in multiple orders, getting penalized with redundant shipping charges. I heard that some folks got shopping carts with totals 10 times the actual price.
By the time I got online, those glitches were more or less ironed out – but I ran into a different problem. Even though it was Early Access for SDCC exclusives, what I really wanted was a regular He-Man figure. But since I was there, I decided I'd hop onto Early Access and get a He-Man and Skeletor mini-figure set to spread the shipping cost across figures. Mattel should be cheering the upsell here.
For some reason, I could not add both items to the same cart. Whenever I'd switch from Early Access to the regular store or vice versa, my shopping cart would lose the other item.
I spent about 30 minutes on two phone calls (one a disconnect after 10 minutes) with Digital River, most of it on hold waiting for a rep to get back to me. Finally, they told me that it was Mattel's policy that we could not combine shipping of Early Access items and regular items. That makes no sense – either it's a lie from Digital River or a stupid policy from Mattel.
Posting on the Mattycollector forums (hosted, I believe, by Digital River) was no help either. My post was deleted – I guess they don't want feedback on bad customer experiences.
Frustrated, I just gave up. No sale for Mattel.
Sometimes shit happens – but this isn't an isolated incident. Just this year, I've had a number of bad experiences with Digital River.
I picked the USPS shipping option to save a buck (my own fault) – but Digital River shipped my package around the country, making a 2-day shipment from southern to northern California take two weeks.
When I called to switch my subs to UPS, Digital River just cancelled my subs – they didn't reinstate them. I had to call back when my subs didn't arrive that month.
The next month, I had to call back again. They had just sent replacement figures the previous month, but didn't reinstate my subs yet again.
Each time I've called, the customer service rep has asked for my password. I guess all they are doing is logging into the regular Mattycollector site. I don't know of another customer service group that does that – in fact, most companies tell you to never give out your password, even to them. And maybe I'm dense, but I can't find where to change my password, which has now been shared with five different Digital River service reps, on the Mattycollector site.
Worst of all, with every single order, I know I'm being systematically overcharged for shipping. Package weights are inflated, and I know from shipping with UPS that there's a surcharge on top of the regular rates that are available to me as an individual. I guess that's Digital River's handling fee.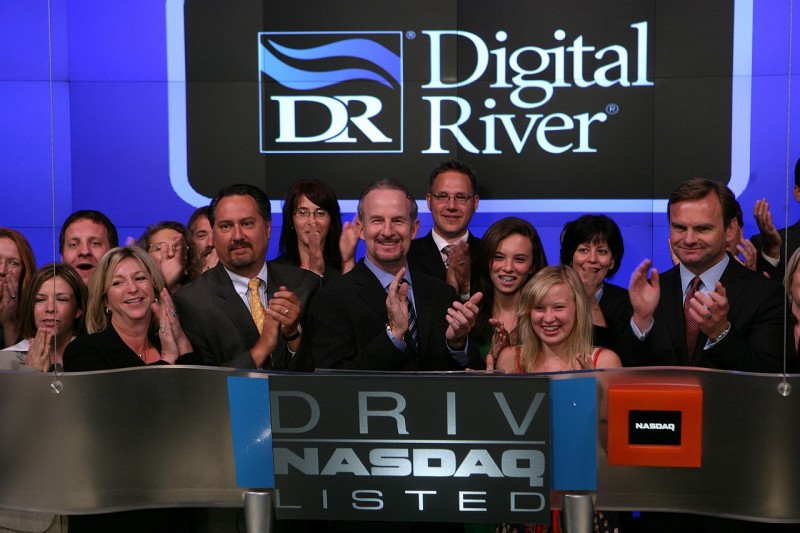 Given how bad the customer service has been, I was surprised to learn that they are not a small company. From Digital River's financial statements, I learned they're publicly traded (NASDAQ: DRIV), have over 1,400 employees, had revenue last year of $386MM with non-GAAP net income of $36MM – and that was a down year for them.
Don't get me wrong – I'm not against free enterprise. I don't think businesses should be run as charities. But I do believe that they should provide commensurate value for what's being charged. I have no idea what Mattel is paying Digital River to run the Mattycollector site – but I would bet my Fisto that they're overpaying. I'd expect that the Digital River customer service reps would be better trained and have better systems available to them. And I don't think Digital River shipping and handling fees should be so exorbitant.
Aside from my latest cart incident, the rest of my Digital River foul-ups have been corrected. But I shudder to think of how many folks have had to suffer through similar screw-ups, and how much extra cost fixing the mistakes have cost Mattel. Because, ultimately, Mattel has to pass those costs onto us.
With just over two weeks to go, the Club Eternia and Club Infinite Earths subscriptions are at 35% and 20% towards hitting their minimums. Mattel has already sounded the alarm. I've got to wonder how many people are not subscribing because they're fed up with Digital River.
Now, I'd like to hear from you. How would you rate your experiences with Digital River? Do you think Mattycollector and Mattel would be better off without them?