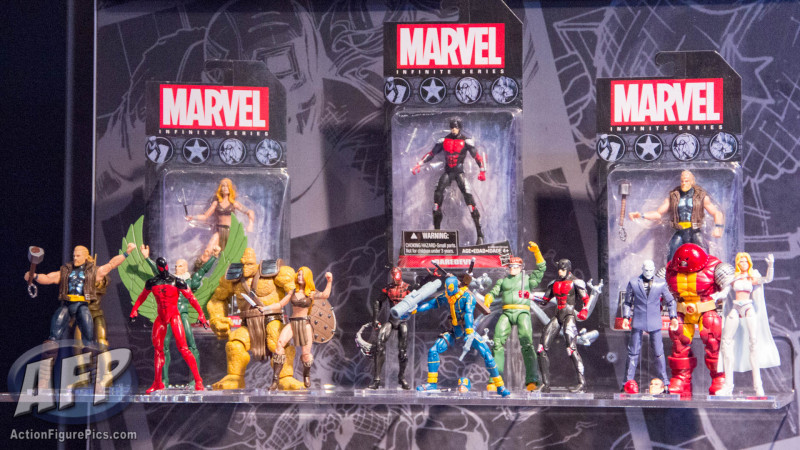 As much as I'm digging on Marvel Legends for 2015, I'd be remiss if I didn't highlight the other expressions from Hasbro's Marvel team before shutting down for the night. In figures, the ones nearest to my heart are the Marvel Universe and Marvel Titan Series figures.
Marvel Universe
There does seem to be a role reversal that's been completed between Universe and Legends. While we're still seeing some new MU figures get produced, it does seem like most of the heavy lifting is getting done on the Legends end. The three most notable figures revealed, Ant-Man, Chameleon, and Emma Frost, leverage their 6-inch counterparts. This is most likely facilitated by Gentle Giant's use of digital sculpts, which can be resized / reused much more conveniently than sculpts using traditional methods.
Marvel Titan Series
When Titans first launched, there wasn't much in the way of movie-based figures. Now Titans is jumping on the Avengers movie bandwagon, and the innovation for this year is the addition of electronics that can interact with each other. The demo for Titans features Hulkbuster Iron Man responding to his teammates.
And that's not all – Role Play iterates on Hulk Hands, Iron Man Repulsors, and Captain America's shield. And Marvel continues to be interspersed throughout the other Hasbro brands. Mashers, Play Doh, Mr. Potato Head, and many others are making use of Hasbro's master license.
For now, I'm happy that Legends is taking such a prominent role in Hasbro's Marvel line-up. Strength across the brand will reinforce that moving forward.