AKA nothing to substantiate the Thundercats rumor other than I've heard it too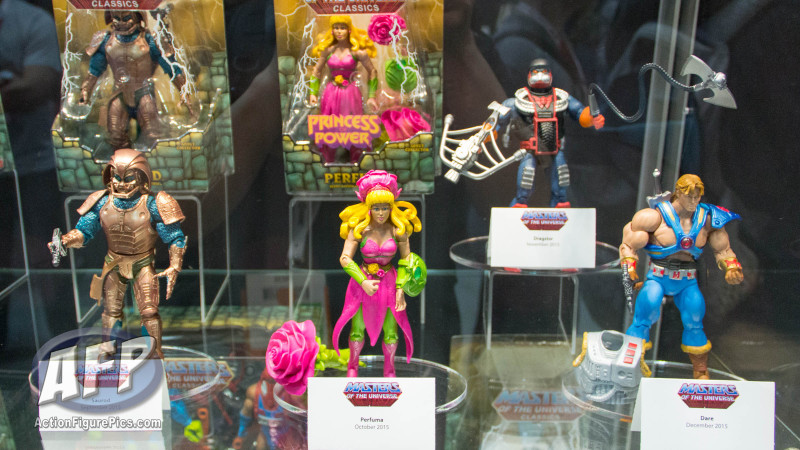 On Preview Night, Mattel left no questions as to what was coming for the rest of the year with Masters of the Universe Classics. They filled in all the blanks through December. But despite them saying that 2015 was the end of an era for Four Horsemen MOTUC, it seems like all marketing communications from the Mattycollector team is that they'll continue making toys next year. The question is, what?
As I noted my approach to the Convention Center on my Instagram feed, I was asked to seek out Mattel and find the Thundercats / Four Horsemen figures everyone's been talking about. While there's a pretty active rumor about that, there was no evidence of it in the Mattel booth. Of course, they'd save that up for their Mattypalooza panel on Friday. By then, we'll know what is coming from Matty in 2016.
As far as regular figures are concerned, 2015 goes out with a whimper as far as I'm concerned, with Saurod (September), Perfuma (October), Dragstor (November), and Dare (December). I've spent a lot of the year having to look-up who it was I was getting that month. I loved having the toys when I was a kid, but the ones I remember that haven't been made are few and far between.
Toy Guru talked about finishing what we had in the vintage line this year. I'm not enough of a MOTU expert to know if Mattel made good on that commitment, but if having Dare, Son of He-Man closing out 2015 means the the line is transitioning into Son of He-Man or "figures that weren't made" when I was a kid… well, that may just be it for me, considering how I've felt with this year's selections.
We also hadn't seen the final four figures for the 200X subscription. I talked myself into subbing, but in hindsight, the only one of these I really, really want is Evilseed.
The most excitement I heard from folks in the booth had to do with the quarterly figures. I don't know if we already knew about Buzz Saw Hordak. But I was somewhat surprised that the other two sets would be Flying Fist He-Man and Terror Claws Skeletor in October and Laser Light Skeletor and Laser Power He-Man in December. Do we really need two more variants each of He-Man and Skeletor packed into the end of the year? The Laser variants at the end of the year just look bad to me – Skeletor's hood has the Eldor too starched and too big look. And Laser He-Man seems… constipated?
With how good the mounts in the line have been, I was hoping for some Stridor / Night Stalker action for Fisto and Jitsu – don't forget, this line is all about Jitsu, who ends up leading Snake Mountain (spoiler!)
I was surprised there were less people talking about the Point Dread / Talon Fighter play set. Will it fit atop the MOTUC Castle Grayskull? I was short on time and no one was around to ask. Will it come with a figure? We'll have to find out.
And, what's with the empty cabinet? Well, that's for 2016, I suppose. Will it be filled by Four Horsemen MOTUC? Four Horsemen Thundercats? Something good, something bad, a little bit of both? Coming soon after the Mattypalooza panel on Friday.