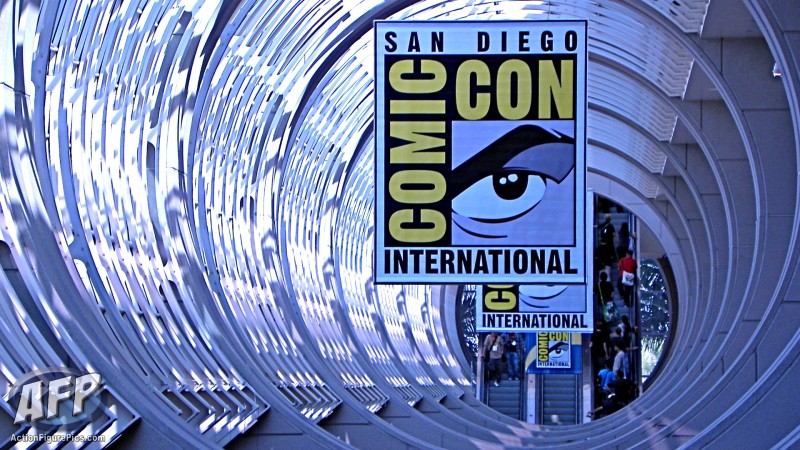 I'll be the first to admit, we're pretty awful when it comes to planning for San Diego Comic-Con. There's so much to do and see, and frankly, it's overwhelming.
But this time around, we'll have some tools and technology that can help get you to the big show, at least virtually, if you can't make it to there yourselves. So it makes sense to apprise our favorite folks, those of you who actually read the stuff here at AFP, of what we're planning and how we're going to share it with you. And to ask for your advice – there's one scheduling conflict that I'll need your help to decide on which to attend.
First, the tools and technology. We're all about pictures, and there's a bunch of ways to keep up to date with AFP:
Instagram: This will be the most immediate. I'll be posting there starting Wednesday afternoon at Preview night, as often as the network allows – the cellular data network does get overloaded quite easily by the sheer number of people at SDCC.
Facebook and Twitter: If Instagram isn't your thing, I'll be posting selected Instagram shots to our Facebook and Twitter feeds too. Just not all of them – I know some people, myself included, aren't too keen when a single person or page spams my feeds, even if it is about action figures!
The AFP website: We'll also be shooting better quality, high resolution pictures with our real cameras. In the past, I've tried posting them to our Google+ Photos gallery, but I think most people prefer them within our SDCC updates directly on the site. Most picture posts on the site will show up in the evening or early the next morning. You can filter what you see on the site to our complete SDCC coverage, which includes news items leading up to the show, or our Events coverage for stuff that's onsite (aside from this post, you'll see stuff from Star Wars Celebration and Toy Fair, until we post after Preview Night on Wednesday).
We will also do video coverage:
Periscope: This is a new live streaming mobile app available for iOS and Android. It's made by the people at Twitter, so if you follow @ActionFigPics, you can also follow us on Periscope. We plan to shoot some coverage of some of the booths around the show floor. We won't have a set schedule, but you can expect some starting Wednesday afternoon at Preview Night. We'll announce these via our Twitter feed, but this will also be heavily dependent on network capacity, so we'll see how it goes.
YouTube: We'll film panels as we're able. The Comic-Con staff really tries to limit videos of panels for some reason. But when we can shoot videos, they take time to upload and process, so if we're fast you'll see them late in the evening of the panel, but most likely the morning after or even later than that. Sorry!
So please, follow, like, subscribe, et cetera, and we'll do our best to give you a virtual view of SDCC!
Here's the panels we'd like to attend. Since we're leaving Sunday before the show is over, we can't attend some of the panels we'd like to on that day.
DC Collectibles
Action figures, statues, busts, PVC figures-DC Collectibles has them! Join the DC Collectibles crew, including VP of creative services Kevin Kiniry, director of creative services Jim Fletcher, and special guests to hear how they come up with so many great products, and what's coming up from comics' top makers of awesome collectibles.
Thursday July 9, 2015 10:00am – 11:00am
Room 9
Transformers Generations: More Than Meets the Eye
Come see what the Transformers characters are up to as you are entertained with sneak peeks of the all new Activision video game trailers, IDW comic prints, and other special surprises. Then get your collector action on as you get an exclusive glimpse at the latest and greatest Transformers generations combiner wars toys that have yet to hit toy shelves. The Transformers team members will also host a Q&A session to answer your burning questions.
Thursday July 9, 2015 11:00am – 12:00pm
Room 25ABC
Bringing Toys to Life in Video Games: He-Man and G.I. Joe Complete the Toy Soldiers: War Chest
The He-Man and G.I. Joe franchises have become a cultural phenomenon spanning toys, cartoons, comic books, and movies since their introduction in the '80s. Now the fan-favorite action figures make the leap to next-generation video game consoles in Toy Soldiers: War Chest. Panelists Derryl DePriest (VP global brand marketing and G.I. Joe historian from Hasbro), Mark Morse (director of global marketing and franchise development for Masters of the Universe from Mattel), and Josh Mast (producer on Toy Soldiers: War Chest from Ubisoft) discuss bringing these classic action figures to life and present a live gameplay demo and an exclusive behind-the-scenes look at the new trailer featuring these characters.
Thursday July 9, 2015 12:00pm – 1:00pm
Room 25ABC
Mattel and WWE: NXT Superstar of Tomorrow
Once again, Mattel and WWE have teamed up to bring you an action-packed SDCC panel. WWE & NXT Superstars and Mattel personnel will discuss the tremendous growth in popularity of NXT, weigh in on the next generation of WWE Superstars, and give exclusive sneak peeks of Mattel's upcoming WWE figure releases. Incredible guest appearances by William Regal, Seth Rollins, Sami Zayn, Kevin Owens, Charlotte, and additional special guests.
Thursday July 9, 2015 1:00pm – 2:00pm
Room 5AB
One thing that's tough about consecutive panels is that the popular ones form lines well in advance and hit max capacity. So we won't make all four of these on Thursday – the most likely casualties are the Transformers and Toy Soldiers panels.
Hasbro:Star Wars
Join members of the Hasbro and Lucasfilm teams as they discuss the popular Hasbro Star Wars line. Attendees will get an in-depth look at Hasbro's latest action figure offerings. Word on the Holonet is there may also be a few surprises, including a special product reveal.
Friday July 10, 2015 12:00pm – 1:00pm
Room 7AB
Mattel Collector: MattyPalooza!
Mattel has some very exciting news about the future of Masters of the Universe Classic, plus a ton more. The panel will include a Q&A with Mattel toy designers, the Mattel marketing team, and The Four Horseman, plus a special treat for fans. Tons of reveals and surprises are in store.
Friday July 10, 2015 12:00pm – 1:00pm
Room 25ABC
Here's our dilemma – the Hasbro Star Wars and Mattypalooza panels are at the same time on Friday. On the one hand, we're sure to see the reveals for Star Wars: The Force Awakens Black Series figures.
On the other, Mattel says they will reveal the future of Masters of the Universe Classics. I know I've gone so far as to suggest the end of the Mattycollector site after this year, but it sure seems like Mattel is determined to keep going. What's the rumor mill saying? Will we see more MOTUC? Will they surprise us with a new collector-oriented license?
Right now, I'm leaning towards the Mattypalooza event, because I know we'll be bombarded with Star Wars for the rest of the year. Which of these two panels would you rather see?
Teenage Mutant Ninja Turtles: Toys and Action Figures
Join the mutants behind the hit toy line for over 25 years. "Team Green" marketers and designers showcase what's new and next with TMNT master toy licensee Playmates Toys.
Friday July 10, 2015 2:00pm – 3:00pm
Room 9
Marvel Heroes 2015: More Amazing, Incredible, and Invincible Than Ever!
Marvel Heroes just celebrated two years as one of the best free-to-play multiplayer PC gaming experiences, and it just keeps getting bigger and better (or, in some cases, smaller and better). See what Gazillion has in store for the rest of 2015 and beyond, including the game's landmark 50th playable character. Expect some fun surprises, and come with some good questions for the Q&A session. Panelists include Gazillion's own David Brevik (CEO and creator of Diablo), Ryan Collins (creative designer/community manager), Bridget MacFarland (game designer), Andrew Hair (gameplay engineer), and Chris Baker (senior social media manager).
Friday July 10, 2015 6:00pm – 7:00pm
Room 25ABC
I play Marvel Heroes, but since it's at the end of the day on Friday, I may just be too tired to make it to their panel.
Minimates Mini-Figures: From Ant-Man to Zombies
Chuck Terceira (president, Diamond Select Toys) and Jason Wires (prototype painter) discuss what's coming up for the toy line, including a new series based on Marvel Comics, movies and animation; plus The Walking Dead, Gotham, Jay and Silent Bob, Back to the Future, Muppets and more. Zach Oat (marketing supervisor, DST) will moderate a Q&A, reveal new artwork, and award prizes.
Saturday July 11, 2015 1:30pm – 2:30pm
Room 8
Diamond Select Toys has another panel on Sunday, which sadly I won't be able to make.
IDW and Hasbro: Transformers, Jem, Ponies, and More
IDW editors John Barber and Bobby Curnow, along with Michael Kelly (Hasbro's senior director, global publishing), present a comprehensive overview of all things IDW and Hasbro; Transformers, My Little Pony, Jem, G.I. JOE, Dungeons & Dragons. Get the inside scoop on the latest news and announcements. Featuring writer Mairghread Scott, artist Agnes Garbowska, and more special guests.
Saturday July 11, 2015 2:30pm – 3:30pm
Room 24ABC
Since I'll most likely miss the Hasbro Transformers panel earlier in the show, I have this as a placeholder. But this will cover their comic book properties, so it may be a skip for me too.
Hasbro Marvel
Adam Biehl (VP, Global Marvel Line, Hasbro), Jesse Falcon (director of Hardlines, Marvel), Dwight Stall (senior Marvel product design manager, Hasbro), Bobby Vala (Marvel product designer, Hasbro), Maalvika Mantripragada (director, Marvel Brands, Hasbro) and Michael Breslin (senior director, Global Marvel Fan Line, Hasbro) discuss Hasbro's popular Marvel LEGENDS action figure lines. Attendees will also get a sneak peek of upcoming Marvel action figures.
Saturday July 11, 2015 4:00pm – 5:00pm
Room 25ABC
This is the Saturday Night Afternoon Main Event for me, and wraps up the panel coverage we'd like to do, but won't cover completely.
The Comic-Con website has the complete SDCC 2015 program schedule – check it out and let us know if there's something totally awesome and action figure related that we missed!